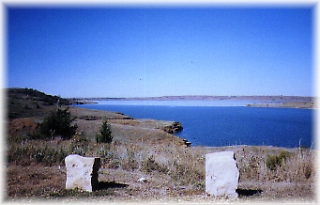 Welcome to 9,000 acre Wilson Lake, the clearest lake in Kansas. Wilson Lake remains one of the most scenic and better fishing areas in Kansas. Currently, the lake holds two state records, one for walleye and one for striped bass. The stripe bass, an ocean native, reaches weights of over 40 pounds in the lake\'s salty waters.
Populations of many game fish species have been enhanced by a stocking program conducted by the Kansas Department of Wildlife and Parks.
Good channel and flathead catfish can be found in the lake. Worms, minnows, shad and crayfish are preferred baits.
A good population of crappie can be found in wooded coves and submerged brush piles using jigs and live minnows. The best times for crappie fishing are spring and late fall. Brush pile fish attractors have been added to the lake to enhance crappie habitat.
Good numbers of largemouth bass are caught near brushy cover, so anglers should concentrate their efforts near standing timber and brush piles. We recommend using worms, crankbaits, and spinner baits.
In early April, good numbers of walleye can be taken off the face of the dam. Try the mudflats during May and June. Jigs, spoons, and trolling baits are effective.
Good numbers of smallmouth bass are also present and may be caught near rocky points.
Lake Information
Fees: Park Permit Required
Location: 8 miles N on K-232 from I-70 Wilson exit
Contact: 785-658-2465