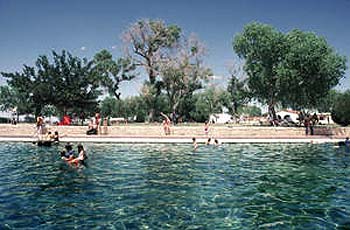 Balmorhea State Park, built by the Civilian Conservation Corps (CCC) in the early 1930s, is located on 45.9 acres in the foothills of the Davis Mountains in Southwest Texas.
The 77,053 square foot San Solomon Spring is the focal point of Balmorhea State Park. From 22 to 28 million gallons of water flow through the spring-fed swimming pool each day. San Solomon Springs has provided water for travelers for thousands of years. Artifacts indicate Indians used the spring extensively before white men came to the area. In 1849, the springs were called Mescalero Springs for the Mescalero Apache Indians who watered their horses along its banks. The present name was given by the first settlers, Mexican farmers who used the water for their crops and hand-dug the first irrigation canals.
Other CCC structures in the park include a limestone concession building, two wooden bathhouses, an adobe superintendent residence, and San Solomon Courts, an early expression of the modern-day motel, constructed of adobe bricks. All of the CCC buildings are constructed in a Spanish Colonial style with stucco exteriors and tile roofs.
Visitors to Balmorhea State Park can enjoy a swim in the CCC-constructed pool and, if staying overnight, may choose to relax in one of the historic rooms at San Solomon Courts. The lobby of the park office includes several photographs of the CCC at work in what is now Balmorhea State Park. When visiting the park, take time to see what the park property looked like in the late 1930s and what it looks like today. Balmorhea State Park is a substantial monument to the construction skills and hard work of the CCC crew and their supervisors.
Find out more