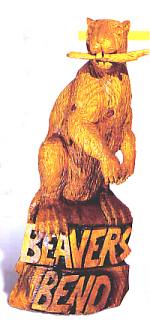 The scenic beauty of Beavers Bend Resort Park makes it one of Oklahoma's most popular resort areas. Beavers Bend Resort Park includes Beavers Bend State Park, Hochatown State Park, Lakeview Lodge and Cedar Creek Golf Course. The crystal clear water of the lakes and rivers, as well as the 100-ft. pine trees, make us the perfect location for your next outing.
Much of the charm of Beavers Bend Resort Park lies in the fact that when the park was built in 1937 by the Civilian Conservation Corps, the materials of choice came from the land itself: slabs of native stone, hardwood timbers thicker than a man's chest. From then, CCC crews fashioned cabins, staircases, fireplaces, campsites, and even the massive Forest Heritage Center & Museum which doubles as the park office.
These hand-hewn structures dot a wilderness that stretches in all directions - some 3,500 pine-studded acres. Hikers encounter white-tailed deer, beaver, mink, eastern wild turkey, fox, raccoon, and, of course, squirrels.
The beauty of Beavers Bend Resort Park is that one is free to explore on one's own or to join in group activities - or to try a little of both. Visitors can choose eagle watches (November through February), fly-fishing clinics, guided horseback rides on scenic trails, or hayrides throughout the park. A year-round naturalist and a well-stocked nature center make possible a program lineup that includes campfire programs on the banks of the Mountain Fork River, nature hikes, arts and crafts classes, water sports, bingo, volleyball, sunset hikes, showings of classic movies, and astronomy outings.
Find out more