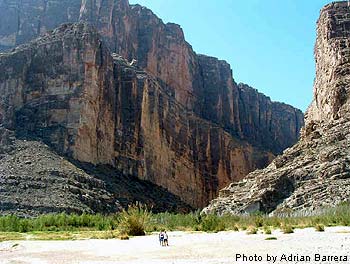 Big Bend is one of the largest and least visited of America's national parks. Over 801,000 acres await your exploration and enjoyment. From an elevation of less than 2,000 feet along the Rio Grande to nearly 8,000 feet in the Chisos Mountains, Big Bend includes massive canyons, vast desert expanses, and the entire Chisos Mountain range. Here, you can explore one of the last remaining wild corners of the United States, and experience unmatched sights, sounds, and solitude.
In Big Bend National Park all roads end at the Rio Grande, the boundary between the United States and Mexico. But far more than two nations meets here. Three states come together at Big Bend: Texas in the United States and Coahuila and Chihuahua in Mexico. Many of the park's famous, expansive vistas mix scenes belonging to both nations.
Big Bend National Park also marks the northernmost range of many plants and animals, such as the Mexican long-nosed bat. Ranges of typically eastern and typically western species of plants and animals come together or overlap here. Here many species are at the extreme limits of their ranges. Latin American species, many from the tropics, range this far north, while northern-nesting species often travel this far south in winter. Contrasting elevations create additional, varied micro-climates that further enhance the diversity of plant and animal life and the park's wealth of natural boundaries.
While the isolation of Big Bend National Park is a drawing point for many visitors, it also means that your trip must be well prepared and carefully planned. Big Bend National Park is located in southwest Texas, hundreds of miles from the nearest cities and transportation hubs. There is no public transportation to or in Big Bend National Park.
Several highways lead to Big Bend National Park: TX 118 from Alpine to Study Butte or FM 170 from Presidio to Study Butte (then 26 miles west to park headquarters) or US 90 or US 385 to Marathon (then 70 miles south to park headquarters).
Find out more