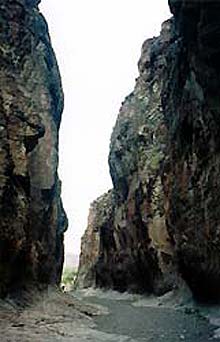 Big Bend Ranch State Park, over 299,000 acres of Chihuahuan Desert wilderness, extends along the Rio Grande from southeast of Presidio to near Lajitas in both Brewster and Presidio Counties. Embracing some of the most remote and rugged terrain in the Southwest, it encompasses two mountain ranges containing ancient extinct volcanoes, precipitous canyons, and waterfalls. The scenic drive along the River Road, following the meanders of the Rio Grande, is among the most spectacular in the nation.
Big Bend Ranch State Park is home for a tremendous diversity of animal and plant species, including 14 species of bats, several species of hummingbirds, and at least 11 other rare plants and animals, including Hinckley oaks and mountain lions. The park also maintains a small Texas longhorn herd, a remnant of the property's ranching heritage (not a part of the official Texas longhorn herd based at Fort Griffin).
At this time, there is little development for public access, but certain areas of the park have limited recreational use and vehicular access. Visitors must contact Fort Leaton State Historic Site, Big Bend Ranch State Park Complex Office (both (4 miles east of Presidio on FM 170) or Barton Warnock Environmental Education Center (1 mile east of Lajitas on FM 170) to obtain permits, pay user fees.
Vehicular traffic into the park interior is allowed on the 35-mile, well-maintained gravel park road and several miles of designated, 4-wheel-drive trails. Motor homes and large recreational vehicles may not be able to enter backcountry park areas.
Find out more