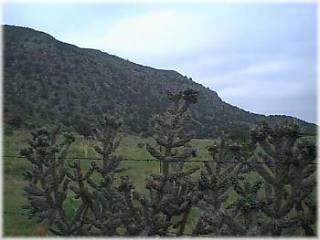 Black Mesa State Park, established in 1959, is located in Cimarron County, the northwest sector of the Oklahoma Panhandle, northwest of Boise City on Highway #325. It consists of 549 acres of land, of which 259 acres are leased and 90 acres are state-owned. Lake Carl Etling, the 200- acre lake was formed by a dam on Carrizzo Creek.
The Black Mesa itself is 8 miles northwest of the park proper and is also a state park area. Lava from an extinct volcano created the rugged setting of the Black Mesa which is the highest point in Oklahoma, just short of 5,000 feet above sea level. Bird watchers, rock and fossil hounds, archaeology buffs, campers and anglers, and hikers find common ground at Black Mesa State Park.
Travelers are directed to a dry creek bed where tracks of the Allosaurus from the Pleistocene era are preserved. More than 18 tons of fossilized dinosaur bones have been taken from the area.
Find out more