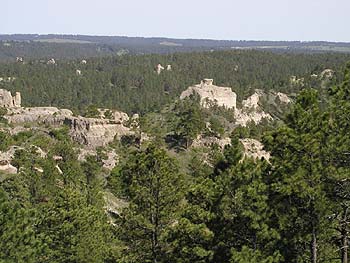 Nebraska's oldest state park, established in 1921, might well be the best kept secret of the state park system. With the majestic beauty of the Pine Ridge as its backdrop, Chadron State Park covers 974 acres of natural beauty sure to awe any visitor. Located off U.S. Highway 385 about nine miles south of the town of Chadron, the park is surrounded by the Pine Ridge Division of the Nebraska National Forest. Dominating the scene are towering ponderosa pines that have adapted well to the Pine Ridge soils and generally dry climate. The altitude approaches 5,000 feet in places, which means visitors "can keep their cool" even on warm summer days.
Chadron State Park offers many of the amenities found at other state parks, but pains are taken to retain the pristine integrity of the area. Modern housekeeping cabins are nestled on the hillsides, blending into the natural landscape. A new, modern RV campground was built in 1991.
Activities are diverse, too, ranging from swimming in the regulation-sized pool to trout fishing to pedaling around the park lagoon in a paddleboat. Horseback trail rides and Jeep rides provide more spectacular views of the area. Various crafts are on tap at the Chartran Trading Post, along with snacks and souvenirs. Visitors can savor the history of the region with demonstrations of old-time fur trader activities and black powder presentations. You can even try your hand at archery, play tennis, or sand volley ball. Groups of 20 or more can also arrange for a buffalo stew cookout. Most activities are available Memorial Day weekend through Labor Day.
Find out more