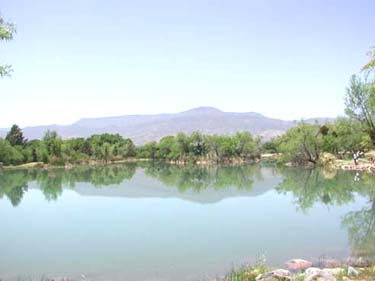 Despite its distinctive name, Dead Horse Ranch is situated amidst an abundance of life along the Verde River. A six-mile reach of the river is known as the Verde River Greenway. Its unique ecosystem, the Cottonwood / Willow riparian gallery forest, is one of less than 20 such riparian zones in the world. Life along the river changes with the seasons, giving visitors a glimpse of the numerous species of raptors, neotropical migrants, resident songbirds, mammals, reptiles, amphibians, and fish.
The developed portion of Dead Horse Ranch State Park covers 423 acres. The 3,300 foot elevation accounts for the mild temperatures that are ideal for camping, moutain biking in the Coconino National Forest, hiking along the Verde River, canoeing, picnicking, fishing, or just wading in the cool water.
How Dead Horse Ranch Got Its Name The story of the park's name begins with the Ireys family, who came to Arizona from Minnesota looking for a ranch to buy in the late 1940's. At one of the ranches they discovered a large dead horse lying by the road. After two days of viewing ranches, Dad Ireys asked the kids which ranch they liked the best. The kids said, "the one with the dead horse, Dad!" The Ireys family chose the name Dead Horse Ranch and later, in 1973, when Arizona State Parks acquired the park, the Ireys made retaining the name a condition of sale.
Park Facilities
* Campsites with electricity, water, picnic tables, and grills * Dump Station * Tent sites with tables and grills * Restroom facilities with hot showers * Picnic areas and group sites * Ramadas for individual and group use * Verde River and four-acre fishing lagoon stocked periodically * Trails for hiking, biking, equestrian use * Horse corrals available for overnight use with advance arrangements * Verde River Greenway Natural Area
Park Hours
The park is open 365 days a year. The Ranger Station opens daily at 8:00 a.m. except on Christmas Day. For check-in and check-out times please see Park Rules.
Find out more