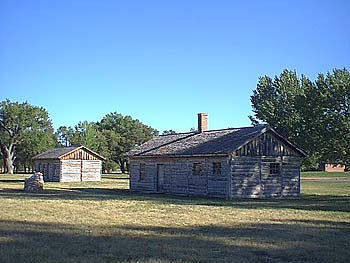 Western Nebraska's premier state park, Fort Robinson, west of Crawford, has it all -- with more than 22,000 acres of exquisite Pine Ridge scenery, compelling old west history, exceptional lodging, loads of fun-time activities, scenic camping and the park's own buffalo and longhorn herds.
This historic outpost served from the days of the Indian Wars until after World War II. This was the site of the 1879 Cheyenne Outbreak and the death of famed Sioux Chief Crazy Horse. Over the years, the fort served the Red Cloud Indian Agency, as a cavalry remount station, K-9 dog training center, POW camp and beef research station.
The State Historical Society operates a museum and many restored or reconstructed exhibit buidlings to interpret the Fort's history. The University of Nebraska operates the Trailside Museum, which interprets the geology and natural history of the region.
There are many ways to spend a day at the fort. First on the agenda should be a ride on the horse drawn tour to get acquainted with this unique park. Enjoy a refreshing Pine Ridge morning on horseback, an open-air Jeep ride among the buttes, or one of the popular nature tours aboard the Fort Robinson Express. When the day warms up, head for the indoor Lindeken Pool, complete with outdoor wading pool and sun deck.
Fort Robinson Restaurant serves breakfast, lunch and dinner daily during the summer season. The park can also cater for group functions from mid-April to mid-November. Snacks are available at the Sutler's Store in the Activities Center.
Find out more