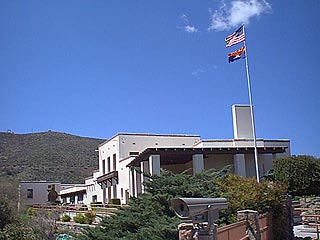 The "Billion Dollar" Copper Camp
Jerome's modern history began in 1876 when three prospectors staked claims on rich copper deposits. They sold out to a group which formed the United Verde Copper Company in 1883. The resultant mining camp of board and canvas shacks was named in honor of Eugene Jerome, the venture's principal backer. Hopes for the enterprise ran high, but the costs of operating, especially for transportation, outstripped profits, and the company folded in less than two years.
It took the vision and vast financial resources of a new owner, William A. Clark, to bring in a narrow gauge railroad and reduce freighting costs. By the early 20th century, the United Verde was the largest producing copper mine in the Arizona Territory. Jerome was becoming a frame and brick town, and could boast two churches, an opera house, a school and several civic buildings.
In 1912, James S. Douglas purchased and began development of the Little Daisy Mine. By 1916, Jerome had two bonanza mines. Copper production peaked in 1929, but the Depression and low grade ore deposits reversed the fortunes of the town.
The Little Daisy shut down in 1938. Phelps Dodge took over the United Verde in 1935, but loss of profits brought the operation and Jerome's mining days to an end in 1953.
Find out more