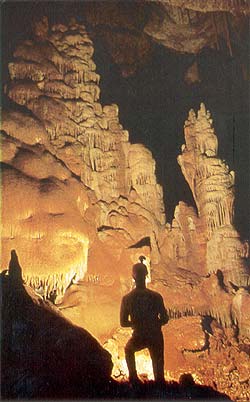 Kartchner Caverns is one of the world's best living caves and remains the anchor that draws the masses to the San Pedro Valley. The State Park, located on 550 acres at the foothills of the Whetstone Mountains just south of Benson, Arizona, offers picnicking, camping, hiking, walking, and the wonderful still-living caverns.
Discovered in 1974 by spelunkers, Gary Tenen and the late Randy Tufts, Kartchner Cavern's pristine cave of massive limestone was unveiled to the public on Nov. 12, 1999, with much fanfare and media blitz. Initially, tours of the Totunda and Throne Rooms were offered throughout the year. The Big Room has since been added for cave enthusiasts to enjoy from October through April. Late April the myotis bat returns from Mexico to give birth, transforming the cavern into a giant bat maternity ward deemed essential to the cavern's delicate environment. All three rooms give visitors close-up views of the beautiful, astonishing and still-growing formations.
On the tour you will discover the role water has played in the creation of Kartchner Caverns. You will see some of the tiniest, most delicate formations found in the cave, as well as the largest column in Arizona. This tour includes an up-close look at the variety of fromations and colors that makes this cave one of the Top 10 in the world.
The cavern's temperature stays at 68 degrees Fahrenheit at 99 percent humidity, ensuring that its life blood - water - percolates from its surface giving life to the still-growing formations.
Katchner Caverns is open every day except Christmas and has a shaded dining area, amphitheater, vending area and gift shop.
Find out more