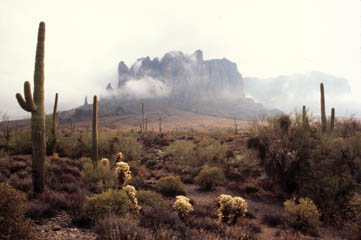 Named after the fabled lost gold mine, this park is located in the Sonoran Desert at an elevation of 2000 feet. The park offers a variety of hiking trails, nature trails, 35 regular campsites, picnic facilities, and special programs throughout the year.
Mild winter climates and the close proximity to the Valley of the Sun makes this an ideal destination for many. During the winter, daytime temperatures usually reach about 60°F, while the summer months can see temperatures soar above 100°F.
History
The Superstition Mountains have been a source of mystery and legend since early times. The area is dotted with ancient cliff dwellings and caves, many showing signs of former habitation by a number of different Native American groups, up until the 1800's. Even the name is inspired by Pima Indian legends.
During the 1840's, the Peralta family of northern Mexico supposedly developed a rich gold mine in the Superstitions. According to legend, an Apache ambush ended the family's last expedition, and the gold remained in the area. In the 1870's, Jacob Waltz ("the Dutchman") was said to have located the mine through the aid of the Peralta descendant. Waltz and his partner, Jacob Weiser, worked in the mine and allegedly hid one or more caches of gold in the Superstitions. Most stories place the gold in the vicinity of Weaver's Needle.
After Waltz's death in 1891, several people attempted to seek out the Lost Dutchman's Mine, all without luck. Later searchers have sometimes met with foul play or even death, contributing to the superstition and legend of these mountains.
The legend of the "lost mine" has been fueled by a number of people who were supposed to have known the mine's location or even worked it. Maps have surfaced over the years, only to become lost or misplaced.
Park Facilities
* Visitor Center selling maps and publications * Picnic areas with tables and grills * Campground with 35 units (no hook-ups) * Dump Station, restrooms, showers, and group use areas
Find out more