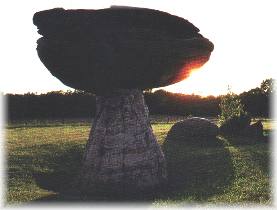 Mushroom Rock State Park is a geological phenomenon of sandstone spheres balanced on softer pedestals of sandstone. The power of erosion weathered away the softer portions of the sandy rock. The spheres of the naturally cemented portions of the sandstone are what we see today at this 5 acre park.
These rocks served as meeting places and landmarks for Indians and early pioneers such as John C. Fremont and Kit Carson. The Smoky Hill wagon train trail crossed in this vicinity and travelers would venture off the trail to visit the rocks. Many interesting displays of artwork from days past are recorded. Please do not add any of your own.
Picnic tables and a vault toilet are available, however, camping is not allowed. Still, this spot is definitely worth driving out of your way to see.
Find out more