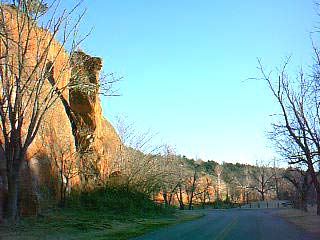 Red Rock Canyon State Park is located in one of several red sandstone canyons that can be found in this part of Oklahoma, and the history of this area is fascinating. The deep red-walled canyon is where the park gets its name. Comanche, Cheyenne, and other tribes reportedly camped here and outlaws hid out in the scenic canyon. With the discovery of gold in California, overland wagon trails were established, such as the California Road, which passed through the current site of the park.
One of the most scenic of Oklahoma's state parks, Red Rock has camping facilities, but is probably best-known for its hiking trails and preserve of native species of plants and trees. Red Rock is the site of the last stand of native Caddo maples trees in the world. The canyon floor is home to a rich ecosystem that includes many varieties of trees, birds and animal life. Nature puts on a spectacular show of color of the Caddo maple tree during prime fall foliage viewing from mid-October through the first part of November but every season is beautiful at Red Rock Canyon State Park.
Picnic areas are generously established through the park and there is a swimming pool and concession stand, open in the late spring through summer.
Find out more