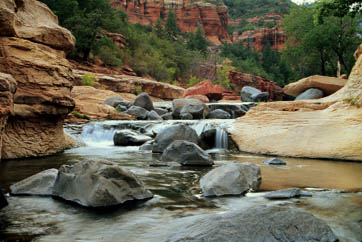 Slide Rock State Park, originally the Pendley Homestead, is a 43-acre historical apple farm located in Oak Creek Canyon. Frank L. Pendley, having arrived in the canyon in 1907, formally acquired the land under the Homestead Act in 1910. Due to his pioneering innovation, he succeeded where others failed by establishing a unique irrigation system still in use by the park today. This allowed Pendley to plant his first apple orchard in 1912, beginning the pattern of agricultural development that has dominated the site since that time. Pendley also grew garden produce and kept some livestock.
As one of the few homesteads left intact in the canyon today, Slide Rock State Park is a fine example of early agricultural development in Central Arizona. The site was also instrumental to the development of the tourism industry in Oak Creek Canyon. The completion of the canyon road in 1914 and the paving of the roadway in 1938 were strong influences in encouraging recreational use of the canyon. Hence, Pendley followed suit and in 1933, built rustic cabins to cater to vacationers and sightseers.
The park is named after the famous Slide Rock, a stretch of slippery creek bottom adjacent to the homestead. Visitors may slide down a slick natural water chute or wade and sun along the creek. The swim area is located on National Forest land which is jointly managed by Arizona State Parks and the U.S. Forest Service. Together these areas have seen the making of many Hollywood movies such as "Broken Arrow" (1950) with James Stewart, "Drum Beat" (1954) with Alan Ladd and Charles Bronson, "Gun Fury" (1953) with Rock Hudson and Donna Reed, and a scene from "Angel and the Badman" (1946) with John Wayne.
On July 10, 1985, Arizona State Parks purchased the park property from the Arizona Parklands Foundation. The park was dedicated in October 1987, and accepted onto the National Register of Historic Places on December 23, 1991.
Find out more