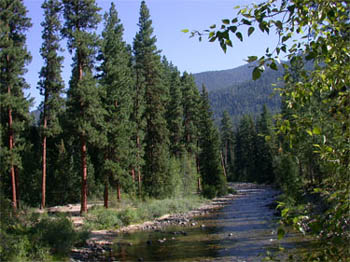 "Something for everyone" may be the best way to describe what the 2.2 million acre Wenatchee National Forest has to offer its visitors.
The Wenatchee Forest covers an area approximately 40 miles wide and 140 miles in length, encompassing much of Chelan, Kittitas, and Yakima counties. It stretches from upper Lake Chelan on the north to the Yakama Indian Reservation on the south.
The vegetation varies with the elevation, from the sagebrush and pine covered slopes at 2,000 feet, to higher elevation areas with alpine fir and mountain huckleberry, to the crest of the Cascade Mountain range at 8,000 feet and above where vegetation is sparse.
Approximately 40 percent of the Wenatchee Forest is designated as Wilderness in seven Wilderness Areas. Here, foot travel is the only method of transportation allowed, and the land is managed in such a way as to preserve its natural, primitive condition.
Wenatchee Forest campgrounds meet a variety of camping needs. Over 100 campgrounds and picnic sites provide room for a total of 13,000 people at any one time. Some campgrounds have sites designed for tent camping, for camper truck use, and for use by those pulling a trailer. Other campgrounds have areas specially designed for campers who bring their horses for trail riding. Still other areas have been developed with the trail bike enthusiast's camping needs in mind. Both single family and multi-family camping sites may be found.
In addition to camping variety, the Wenatchee Forest offers many other recreation opportunities. There are approximately 5,000 miles of forest roads which provide access to campgrounds, trailheads, scenic vistas, woodcutting and berry picking areas, hunting areas, rockhounding areas, lakes, and streams. In the winter, snow-covered roads are used for cross-country skiing, snowshoeing, and snowmobiling.
Trail users will find about 2,500 miles of recreation trails available for hiking, horse use, trail biking, and mountain pedal bike use. The winter months also bring opportunities for cross-country ski trips along developed, signed trail systems. Some trails are open to a variety of uses, while others are restricted to non-motoroized use alone.
A variety of informational material is available free from any Wenatchee Forest office. Recreation maps which display campgrounds, roads, trails, and other special features of the Wenatchee Forest are available for purchase at $4.00 plus tax.
Find out more