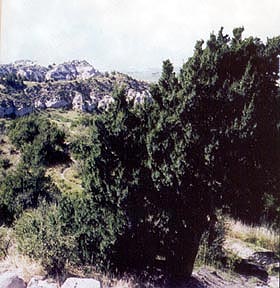 Wildcat Hills State Recreation Area, Wildcat Hills Nature Center and the Big Game Reserve are a picturesque blend of rugged rock buttes and pine covered canyons. Primarily geared for day use and picnic outings, Wildcat totals 935 acres (with 705 acres in the recreation area), overlooking the North Platte River Valley. Historic Scotts Bluff National Monument looms to the northwest.
The Game and Parks Commission acquired the initial Wildcat Hills tract in 1929, and the picnic area and game reserve were built by the Civilian Conservation Corps (CCC) and the Works Progress Ad ministration (WPA) during the Depression era . Nearly all of the buildings and facilities on the area are built of native stone, quarried nearby. Wood for roofs, bridges and benches came from logs cut on the area.
The picturesque paths reveal a side of Nebraska that most people do not realize is there. Scenic vistas of rich pine-scented Ponderosas provide a perfect backdrop for a peaceful day in the woods. Wildlife such as birds and whitetailed deer and mule deer only add to the tranquility of the experience.
Find out more