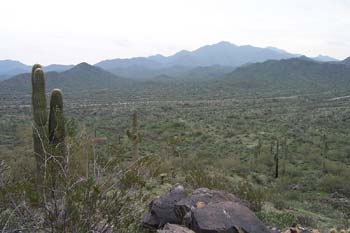 Perched on a ridgeline of Estrella Mountain Regional Park, one could have witnessed the unfolding of many interesting events and lives that have been lived out in the desert landscape below. The history and lives of the area begins with the Hohokam Indian culture which inhabited the area from around 500 A.D. to 1450 A.D. Part of the Hohokam, or later cultures, utilizing a canal system, were once located within the park boundaries of Estrella Park.
This 19,840-acre park features 65 acres of grass with ten covered ramadas, picnic tables, grills, restrooms, playground equipment, two lighted ballfields, an 18-hole golf course, and a rodeo arena.
Even though there has been a steady growth and expansion of facilities in the park, development is still limited to a very small portion of the park. Most of the landscape of the park today remains pristine desert, very similar in appearance to the landscape seen by the first European explorers who traveled past these mountains and foothills. These factors that have worked to resist development have preserved a very valuable resource for the Maricopa County Parks system. Estrella Mountain Regional Park contains many untapped resources and excellent potential for providing a greater variety of quality recreation opportunities.
Find out more