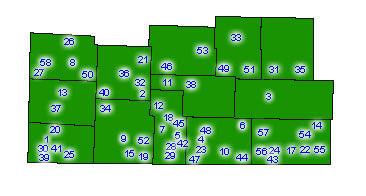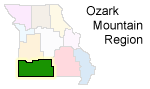 This year take your family to a place where the world seems a little brighter, a little stronger, and a little bit more like the kind of place everyone wants to call home. America's live-entertainment capitol , crystal-blue lakes surrounded by forested of what's waiting for you when you arrive in Missouri's Ozark Mountain Range.


Near the region's center is Branson, the little town that grew into a world-renowned vacation destination, and is now a haven for those looking for thrilling entertainment combined with old-fashioned hospitality and excitement for the entire family. Non-stop family fun highlighted by more than 90 music/variety shows, Branson offers up country music legends, hilarious comedians and have brought many new names, representing musical styles that range from traditional country and pop "classics" to today's sounds.


Nearby, Silver Dollar City will also transport you back to the turn-of-the-century. Here you'll see craftspeople work their magic, and find exciting rides and music shows, all in the setting of an 1880s Ozarks town. You won't want to miss the park's newest attraction, Buzz Saw Falls. At Shepard of the Hills Homestead and Outdoor Theatre, you can take a tram tour of this literary historic site, then watch the fast-paced drama re-creating the Shepherd's tale of life on the Ozarks frontier.


On Branson's doorstep is river-like Lake Taneycomo, where cold waters support an excellent trout fishery. Also closeby is sprawling Table Rock Lake. Its 43,100 acres are a delight for anglers, boaters, scuba divers and other water recreationists. Equally big and fun is Bull Shoals Lake, an hour east of Norfolk Lake provides the region with yet another sparkling jewel.


Surrounded by gently rolling hills and panoramic landscapes, Springfield is a cosmopolitan city set in the beauty of the great out-doors. Plan stops at the history and art galleries, General Sweeny's Museum and Dickerson Park Zoo. Kids will love the Discovery Center, an interactive hands-on museum. Shopping opportunities abound, including one of Missouri's most popular attractions and sportsman's paradise, Bass Pro Shops Outdoor World. And new in the Fall of 2001 is the Wonders of Wildlife Museum. Just outside Springfield you can take a "wild ride" through Exotic Animal Paradise, relive Civil War history at Wilson's Creek National Battlefield or go underground at Fantastic Caverns, North America's only ride-through cave.


In Mansfield, you can visit the house where "Little House" author, Laura Ingalls Wilder, lived. An hour west of Springfield is Joplin, a booming mining town in the late 1800s.


Nearby Carthage is known for its Victorian homes. Artist Sam Butcher's Precious Moments Chapel and Visitors Center is here, too. Just south, at Diamond, is the George Washington Carver National Monument. Its museum highlights the life and career of this renowned African-American agronomist.


The Ozark Mountain Region offers something special for everyone. Anytime of the year, you'll find this region is the perfect getaway choice, inspiring visitors for generations to come. Join us and relax in the Ozark Mountain Region, a destination unlike any other.
Explore Ozark Mountain Region
Explore Ozark Mountain Region