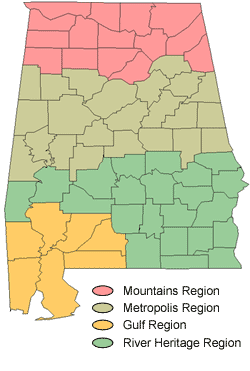 Recreational opportunities abound throughout Alabama, from the sugar-white sands of the Gulf Coast beaches to the majestic mountains of North Alabama. You'll find some of the best biking trails in the South and ample sites for camping, hiking, rock climbing and watching wildlife.
The Alabama Bass Trail is a must for any avid angler. In addition, Alabama is one of the premier states in the nation for hunting white-tailed deer and Eastern wild turkey. Our state's generous hunting seasons and bag limits are the envy of other states. Or search for one of numerous sport shooting facilities.
Choose from dozens of splendid public and private gardens located in small towns and cities that will be open for tours during the special celebration of 2004: The Year of Alabama Gardens.
Alabama's rivers are a great place for you to enjoy canoeing or rafting and our pristine lakes are the ideal place for boating. You'll find more than one million acres of lakes, 1,600 miles of rivers and 53 miles of coastline ready for your enjoyment. If diving and snorkeling are your hobbies, then Alabama has some great locations to practice your art. The Gulf Coast along our southern border offers a variety of places to take a dip in the ocean. Whether you are exploring the bottom of the Gulf or simply enjoying the natural marine life, you will find an adventure!
Look no further than Alabama's abundant collection of museums to find the story of our great state and its people. From the birthplace of Helen Keller to birth of the Civil Rights Movement, discover struggles and accomplishments of our past. Visit the actual Civil Rights Movement sites in Birmingham, Montgomery, Selma and Tuskegee where events that galvanized the world also made a nation view its fellow men and women with equality and respect.
Alabama's grand homes also have many stories to tell in almost every corner of the state. You can find them in the Historic Sites/Homes section. Civil War heritage in Alabama is complex and diverse, with many historically significant sites and museums to visit.
Alabama is also rich in Native American history. The tribes and traditions of Alabama's Native Americans live on at many sites throughout the state.
Explore Alabama