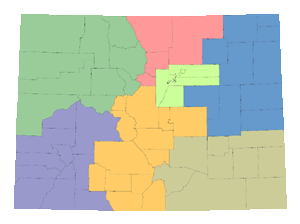 First visited by Spanish explorers in the 1500s, the territory was claimed for Spain by Juan de Ulibarri in 1706. The U.S. obtained eastern Colorado as part of the Louisiana Purchase in 1803, the central portion in 1845 with the admission of Texas as a state, and the western part in 1848 as a result of the Mexican War.
Colorado has the highest mean elevation of any state, with more than 1,000 Rocky Mountain peaks over 10,000 ft high and 54 towering above 14,000 ft. Pikes Peak, the most famous of these mountains, was discovered by U.S. Army lieutenant Zebulon M. Pike in 1806.
Once primarily a mining and agricultural state, Colorado's economy is now driven by the service industries, including medical providers and other business and professional services. Colorado's economy also has a strong manufacturing base. The primary manufactures are food products, printing and publishing, machinery, and electrical instruments. The state is also a communications and transportation hub for the Rocky Mountain region.
The farm industry, which is primarily concentrated in livestock, is also an important element of the state's economy. The primary crops in Colorado are corn, hay, and wheat.
Breathtaking scenery and world-class skiing make Colorado a prime tourist destination. The main tourist attractions in the state include Rocky Mountain National Park, Curecanti National Recreation Area, Mesa Verde National Park, the Great Sand Dunes and Dinosaur National Monuments, Colorado National Monument, and the Black Canyon of the Gunnison National Monument.
Explore Colorado