category : Museums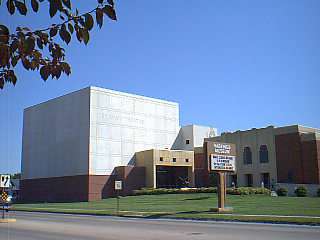 Hastings Museum.... What a wonderful world!
From immense polar bears to tiny hummingbirds, the many forms of animal life
from around the planet are on display in dioramas representing the natural habitat
of each.
The Earth ifself is the artist at work in the exhibits of the planet, nature
has conjured up an astonishing array of dazzling rocks and gems.
On the lower level is our time machine. The gadgets, trinkets, and everyday
objects that filled the lives and homes of your great-grandparents... the horse
drawn buggies that kicked up the dust of the Old West... the earliest cars...
it's all here!
There's more of course, but discovering our treasures for yourself is half
the fun!
Lied Super Screen Theatre... Add "Wow"! to
your vocabulary
There's nothing else quite like the experience of seeing an IMAX film. A huge
projected image that fills your field of vision - five stories tall and 70 feet
wide - combines with the crystal clarity of six-channel stereo surround sound
to fool your senses into believing you're actually part of the action on screen!
Add a visit to the Lied Super Screen Theatre to your stop at Hastings Museum, and you
can travel to exotic places, reach the bottom of the ocean, fly with the space
shuttle, or stand in the path of a tornado - all from the most comfortable theatre
seat you've ever experienced.
J.M. McDonald Planetarium... The Universe, showing
daily
A brilliant meteor streaks across the sky. The stars of Orion shimmer in a
winter sky. The Milky Way galaxy drifts silently through intergalactic space.
View these wonders and more inside the J.M. McDonald Planetarium.
Our Minolta MS-8 star projector offers a stunningly realistic representation
of the night sky; while special effects, video, slides and audio transport you
across the universe. Shows are offered daily.

Address: 14th & Burlington
Phone: 1-800-508-IMAX
Our Website:www.hastingsnet.com/museum

Come visit us in Nebraska, Nebraska