category : Museums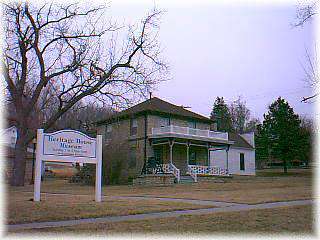 The Heritage House Museum is a complex of three buildings consisting of the main museum, a native stone house, and a small wood structure which had been the office of Dr. Jesse Fate, a homeopathic physician. The name "Heritage" was selected with the intentions that the museum would display not only relics of pioneer days but also of the Indian cultures in which the neighborhood is so rich; and stepping farther back into time, of the geological history of the area.
The house is of historical significance, having been the original Congregational Church parsonage that was built in 1867. The house served as a parsonage for only three years and was then sold for funds to build the Congregational Church across the street. In 1893, Dr. Jesse Fate, a Civil War veteran and a homeopathic doctor, purchased the house. The Fate House is the oldest Congregational Church parsonage in the State and is built of dressed limestone of a quality which cannot be obtained any more. Prior to 1975 the structure had be listed on the National Register, but indications of a structural weakness of the west wall required a buttress for stabilization which unfortunately caused it to lose its designation.
A few years after Dr. Fate had moved into the house he had built an office near by. The office was used by the doctor until the mid-1920s and with very few alterations is exactly as he left it. The office includes hundreds of filled prescription bottles, compounded for the most part by Dr. Fate, and equipment, books, and furniture just as he had used it at the turn of the century.
In 1970 stone was brought in from one of the quarries for erection of the main museum and matches the Fate House perfectly. The large bell mounted on a stone base is from the old Weeping Water School built late in the 19th century. It is a great focal point for visiting school children. A "wishing well" has been erected behind the Fate House as well as a circular concrete flower bed that has a number of Indian grinding stones embedded in the rim.
In the 1990s, the Museum acquired another building downtown that houses memorabilia of early century business life. It is open summers through the week and will be able to schedule openings of the main museum.

Admission: Free Admission, donations appreciated
Hours: HOURS: June through October, Sunday, 1:00 to 4:00 p.m., or by appointment.
Address: 300 West "H" Street
Phone: 402-267-4925, or

402-267-2225
Come visit us in Nebraska, Nebraska