category : National Monuments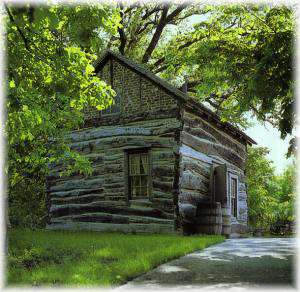 The Homestead Act of 1862 - By the 1850's, huge land acquisitions had filled out the continental United States.
the country's sheer vastness strengthened the conviction that the public domain
rightfully belonged to the people. The grassy interior between the Missouri and the
Rocky Mountains was designated Indian Territory in the 1830's and was
bypassed by the emigrants on the Oregon Trail. But as the east and far west
closed to settlement, expansionists pushed through the Kansas-Nebraska Act of
1854, which opened the territory to farmers.

Distributing land west of the Mississippi became an enormous project. The inability of small farmers to compete with larger
concerns precipitated a series of anti-speculation laws. The Pre-emption Act, championed by Missouri Sen. Thomas Hart
Benton in 1841, legitimized squatting by letting farmers claim unsurveyed plots and later buy from the government. Southerners
opposed the idea of land giveaways because it benefited working-class whites who were unlikely to vote slavery into any new
states.
President Abraham Lincoln signed the Homestead Act of 1862 as the American Civil War drug on into its second year. The
act declared that any citizen or intended citizen could claim 160 acres -- one quarter square mile -- of surveyed government
land. Claimants must "improve" the plot with a dwelling and grow crops. After five years, if the original filer was still on the land,
it was his property, free and clear.
Homestead National Monument - One of the first takers was a Union scout from Iowa named Daniel Freeman. Freeman
persuaded a Brownville, Nebraska land agent to let him sign up shortly after midnight on January 1, 1863, the day the
Homestead Act took effect, allowing Freeman to rejoin his Union Army regiment. The Homestead National Monument is
located on the site of Freeman's original land claim.
Since 1936, Daniel Freeman's T-shaped claim has commemorated the first documented 160-acre claim entered and patented under the homestead Act of 1862, as well
as the waves of American landseekers and European immigrants who ventured west in the late 19th century to take up the
demanding life of the prairie farmer. Homestead National Monument includes the original Freeman land, an historic cabin
typical of eastern Nebraska, the original Freeman school ( National Historic Register) and trails that wind through the restored tallgrass prairie.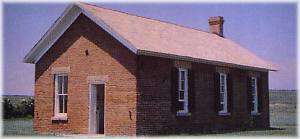 At this site you can visit museum exhibits, and historic structures such as the one-room Freeman School
and the 1867 Palmer-Epard Cabin. The Freeman School was the oldest operating one-room schoolhouse in
Nebraska until it was closed in 1967. Some of Daniel and Agnes Freeman's children were educated here. It has been restored
to its appearance in 1890. Watch the 18 minute orientation video, visit the Farm Implement
display, or explore the 2.5 miles of trails that wind through the restored tallgrass prairie. All indoor exhibits
and some of the trails are accessible. Free Special Events and programs occur throughout the year.
Homestead Wildlife and Trails

Homestead National Monument of America provides several
hiking trails that take you deep into the prairie where all you can hear is the wind, and the woodlands
where the sound of your footsteps provide a hushed rhythm. When visiting ask about our award-winning
self-guided trail map.
Nebraska is a place rich in diversity and wildlife viewing opportunities. In southeastern Nebraska, where
prairie grasses grow head high, Homestead National Monument of America hosts the second oldest
restored prairie in the nation. The 195-acre monument abounds with plant and animal life scarcely seen all
in one place.
The tallgrass prairie is alive with long slender grasses such as Big Bluestem, Indiangrass, Switch Grass,
Little Bluestem, and Cordgrass. Many different animals find refuge among these grasses like the
White-tailed Deer, Ring-necked Pheasant, Bob-white Quail, Deer Mice, Prairie Vole, just to name a few.
The monument also contains a large woodland area with a creek that snakes its way through. Bobcat,
Beaver, Opossums, Raccoons, and many different birds can be found in this habitat. The forest is made up
of stately White Oaks, Green Ash, Osage Orange, and Cottonwood trees.

Admission: FREE ADMISSION
Hours: Open every day except Thanksgiving Day, December 25 and January 1
Address: Contact: Superintendent, RFD 3 Box 47, Beatrice, Nebraska 68310
Phone: 800-755-7745
Our Website:www.nps.gov/home/home.htm

Open Hours:
Memorial Day through Labor Day: Daily: 8:30 a.m.- 5:00 p.m.
Labor Day through Memorial Day: Weekdays: 8:30 a.m.- 5:00 p.m.
Weekends: 9:00 a.m.- 5:00 p.m.
Facilities:
There is a small picnic area near the visitor center. Restrooms and water are available in the Visitor Center. Campgrounds, restaurants and overnight accommodations are available in Beatrice.
Organized Tours and Groups:
School or community groups planning to explore this site should call at least 2 weeks in advance to make reservations. Guided ranger programs or Parks as Classroom educational activities can be arranged. All programs are free of charge.
Directions to Homestead:
Homestead National Monument of America is located in southeastern Nebraska, about 40 miles south of Lincoln. Follow signs to U.S. Highway 77 South (Homestead Expressway) from I-80 near Lincoln. At Beatrice, turn west and follow Nebraska State
Highway 4 for 4 1/2 miles to the park entrance. Visitors traveling north out of Kansas City on I-29 should take U.S. Highway 136 approximately 65 miles to the State Highway 4 turnoff.
Homestead National Monument is administered by the National Park Service, U.S. Department of the Interior.

Come visit us in Nebraska, Nebraska