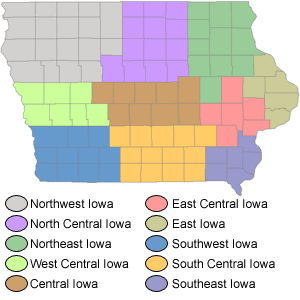 The word "Iowa" comes from the American Indian tribe of the same name. Iowa was part of the Louisiana Purchase, a deal arranged between President Thomas Jefferson and Napoleon Bonaparte of France that brought a vast tract of the continent under the control of the United States. The area was closed to white settlement until the early 1830s.
The Herbert Hoover Presidential Library and Museum affords visitors many insights into the life and leadership of America's 31st president. Located in West Branch, the site includes Hoover's birthplace cottage and final resting place. A blacksmith shop, one-room schoolhouse, Friends meeting house, replica of the Oval Office, and changing American history exhibits are also part of the library and museum operated by the National Archives and Records Administration. The Visitor Center is operated by the National Park Service. www.hoover.archives.gov
Effigy Mounds National Monument is a group of prehistoric American Indian burial and ceremonial mounds located near Marquette in northeast Iowa. The mounds - shaped like birds and animals between 500 B.C. and 1300 A.D. - form the sacred centerpiece of a 2,526-acre forest along the Mississippi River bluffs. Natural resources include 11 miles of hiking trails, tallgrass prairie and wetlands.
www.nps.gov/efmo
The Silos and Smokestacks National Heritage Area is a federally designated, 37-county region in northeast Iowa, where visitors experience the past and present of Iowa agriculture through a network of sites. One of only 27 National Heritage Areas in the United States, Silos and Smokestacks tells the story of American agriculture, agribusiness and farm life. It is affiliated with the National Park Service. www.silosandsmokestacks.org
Explore Iowa