category : Arts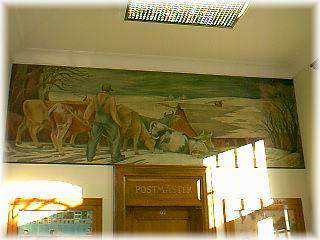 The Albion United States Post Office, built in 1937-38, is a one-story, red brick building with simple Colonial
Revival details built from standardized plans in the 1930s. While the building retains a high degree of integrity, its
historical significance derives from the mural painted on an interior wall.
Through New Deal programs such as the Public Works of Art Project and the WPA Federal Art Project,
thousands of artists were employed. In 1934 the Section of Painting and Sculpture (renamed the Section of Fine
Arts in 1938) was organized under the auspices of the Treasury Department to provide murals and sculpture for
the many federal buildings constructed during the New Deal era.
Between 1938 and 1942 the Treasury Department's Section of Fine Arts (generally known as "the Section")
commissioned twelve murals for twelve newly constructed post offices in Nebraska. Albion, along with the other
eleven post office murals in Nebraska represent the Section's goal of making art accessible to the general
population by reserving one percent of new building construction budgets for art.
Listed on the National Register of Historic Places, the mural was painted by Jenne Magafan.

Address: 3rd and Church

Come visit us in Nebraska, Nebraska