category : Historic Churches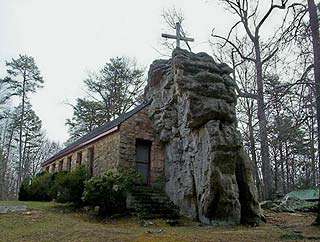 This quaint, one-room country chapel often referred to as The Church Built Around A Rock, is constructed around a granite boulder. This boulder forms a backdrop to the altar of the church. Ashes which are interred inside the boulder are those of Col. Milford Howard, who built the chapel dedicated in 1937, in memory of his wife, Sallie. Most of the materials used in constructing the chapel are local..the huge wooden beams, the stone walls and, of course, the huge granite boulder that makes up the front of the chapel.
The Chapel is a quiet, inspirational place...but also a working church, with services held every Sunday, and it is also a popular place for weddings.
Take Hwy 89/DeSoto Pkwy northeast of Fort Payne until you've driven through DeSoto State Park, then turn right at the foot of the hill. The chapel is no more than 100 ft on the right side of the road.

Phone: 256-638-4441

Come visit us in Mentone, Alabama