category : Theatres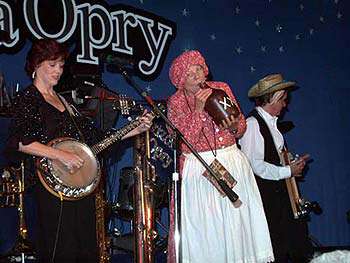 Whether you live here or you are just visiting the beautiful Valley of the Sun, treat yourself to a fun-filled evening at Barleens Arizona Opry. This operation boasts a tenure of 25 years and now debuts an exciting new show for the 21st century! The Arizona Opry and the Barleens team up to bring you the biggest talent in town. Close knit harmonies, outstanding musicianship, comedy and family fun round out this professional stage show.
Relax in our comfortable, air-conditioned theatre and enjoy our hearty home-cooked meal served right to your table. After dinner sit back and prepare for an unforgettable evening of family entertainment.

Admission: Adults: $26.00, Children 12 and Under: $18.00. Ticket prices include dinner, show and all taxes and gratuities. Call for updates.
Hours: Open November through April. Dinner served at 6:30 PM, Show follows at 7:30 PM.
Address: 2275 Old West Highway
Phone: 480-982-7991
Our Email: info@azopry.com
Our Website:www.azopry.com
Take US Route 60 (Superstition Freeway) to Tomahawk Road (Exit 197) and go north 1 mile to the Old West Highway. Turn right and and go 1/2 mile. The theater is located on the south (right) side at 2275 Old West Highway.
Come visit us in Apache Junction, Arizona