category : Museums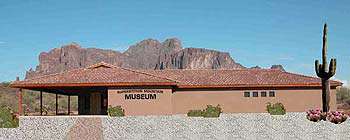 The Superstition Mountain Museum collects, preserves and displays the artifacts, history and folklore of the Superstition Mountains, Apache Junction and the surrounding region. The museum has a variety of exhibits that allow you to see what the old west was really like back at the turn of the century. Visit our tourist center, gift shop, browse and shop the book store for information on the Superstition Mountain and Lost Dutchman Mine, view a stamp mill in action, plan a wedding with the Superstition Mountain as a fantastic backdrop.
Lost Dutchman Exhibit
: Study the twenty three maps on display and maybe you can discover the location to ol' Jake's mine. The collection includes paper, adobe and stone maps.
The Peralta family mined the Superstition Mountains in the 1840s. They developed rich gold deposits in the Superstitions and took the gold back to their base in Northern Mexico. In 1848 on one of their trips back to Mexico they were attacked by Apaches and only few of the family members survived. The survivors never returned to their gold mine in the Superstitions. Since 1848 many have tried to find the Peralta mines. Evidently in the 1870s Jacob Waltz, the "Lost Dutchman," came across the "lost" mine with the aid of a Peralta descendant.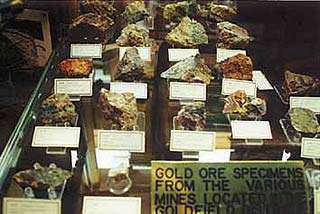 Geological Exhibit
: The Geological exhibit offers interesting rock samples from the area and state, along with an explanation of the geological history of the Superstition Mountains. The museum has many artifacts and treasures from the town of Goldfield, including ore samples from the mines in the Goldfield area.
Natural History Exhibit
: The natural history exhibit displays a variety of local animal and reptile life.
Animals native to the area include bobcats, mountain lions, whitetail and mule deer, javelinas, porcupines, coyotes, ringtail cats, jackrabbits, desert cottontails, Gila monsters, several squirrel, chipmunk, and bat species, four species of skunks, over a dozen snake species, and over 100 bird species.
Prehistoric Indian Exhibit
: The prehistoric Indian exhibit with displays of Hohokam and Salado artifacts, including bowls, awls, arrowheads, stone hammers, axe heads, metates, manos, pitchers, turquoise and shell pendants, just to name a few. Human occupation of the Superstition Mountains can be traced back 10,000 to 12,000 years.
Military Exhibit
: The mounted military history exhibit displays representative saddles, uniforms and weapons of America's mounted soldiers. The Cavalry played an important part in Arizona history in the last half of the 19th century. The horse made it possible to move troops into remote troubled areas swiftly.

Hours: 9:00 am - 4:00 pm daily, Closed Christmas Day
Address: 4087 N Apache Trail, Hwy 88, 3.5 miles NE
Phone: 480-983-4888
Our Email: info@superstitionmountainmuseum.org
Our Website:www.superstitionmountainmuseum.org

Come visit us in Apache Junction, Arizona