category : Monasteries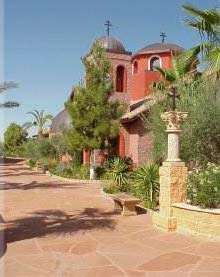 In July 1995, six monks came to the barren Sonora Arizona desert from the Holy Monastery of Philotheou, Mount Athos. Upon their arrival, the fathers begun with the necessary construction work, building first the main church, living quarters for the monks, the dining hall and guest facilities. A vegetable garden, a small vineyard, citrus orchards, dot the landscape. An elaborate system of gardens, pathways, and gazebos with Spanish water fountains, truly render the monastery and its extensive grounds an oasis in the desert. Because St. Anthony's Greek Orthodox Monastery follows the "cenobitic" way of monastic life, all things are common to all, and everyone follows the same daily schedule, under the discretion of the Abbot. Meals are eaten together, and the work, rest periods, and services are conducted according to the monastery's schedule.
St. Anthony's Monastery welcomes all visitors.
Orthodox
men and women visit for a few days of spiritual growth and quietude.
Pilgrims
, coming to attend the services, consult with our spiritual fathers and confess, can also be accommodated at the monastery's guest facilities.
Day visitors
can view the monastery chapels and walk the grounds between 10:30 am and 4:00 pm daily.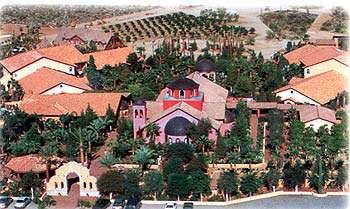 If you wish to enter the holy grounds of the monastery, you should be dressed appropriately and modestly. Men are asked to wear long pants and sleeved shirts. Women are asked to wear skirts well below the knees, long-sleeved shirts, and are to have their heads covered with a scarf. (No hats, sheer scarves, pants, shorts, tight skirts or blouses, etc.) Everyone is asked to wear socks. Smoking is strictly forbidden, and small children should be kept under parental supervision at all times. Photographs are allowed of the buildings, the grounds and the church interiors, but not of monks or guests. Please note that once you enter the front gate of the Monastery, you are on holy grounds and we ask that you observe the above guidelines.
All are welcome to participate in our church services, but according to the Holy Canons of the Orthodox Church, only Orthodox Christians may be inside the Nave during a service. For this reason, non-Orthodox visitors are asked to participate from the Narthex ( the first room upon entering the church building).

Hours: Church Service Schedule:
3:30-7:00am, Midnight Office, Orthros,& Divine Liturgy
5:00-6:15pm, Ninth Hour & Vespers
6:45-7:15pm, Small Compline
Address: 4784 N. St. Joseph's Way
Phone: 520-868-3188
Fax: 520-868-3088
Our Email: gate@stanthonysmonastery.org
Our Website:www.stanthonysmonastery.org
Located 8 miles south of Florence along Highway 79, turn East at mile marker 124.
Come visit us in Florence, Arizona