category : Museums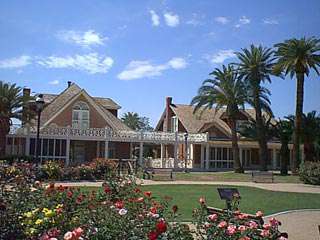 Enjoy the 1885 homestead that is one of the oldest and best-preserved examples of early ranches in the Salt River Valley. Sahauro Ranch was acclaimed throughout its hundred-year history for its beauty and size, celebrated for its agricultural ingenuity, praised for its architectural uniqueness, and proclaimed the "Showplace of the Valley."
Today, 80 acres of this turn-of-the-century Glendale homestead have been converted into a magnificent park. While an active recreation area has been carved from 60 acres of the ranch's orchards, the highlight for visitors is the 20-acre historic park site which has been created from the original ranch complex. The idyllic setting invites you to step back in time as you stroll through this unique "ranch museum" whose artifacts are the many buildings, orchids, landscaping and wildlife within those boundaries.
With its original buildings and grounds preserved by the City of Glendale, beautiful Sahuaro Ranch has been restored to its former prominence as the "Showplace of the Valley."

Hours: Building Tours: Weds - Fri, 10 AM - 2 PM; Saturday, 10 AM-4 PM; Sunday, 12 - 4 PM
Ground Hours: Daily, 6 AM to Sunset
Address: 9802 North 59th Avenue
Phone: 623-930-4200
Our Email: sahuaroranch@glendaleaz.com
Our Website:www.sahuaroranch.org

| | |
| --- | --- |
| Begin your tour in the Foreman's House where interpretive displays explain and illustrate the ranche's famous history. | Gain insight into the workings of a 1900s farm at the Fruit Packing House with its collection of historic farm tools and equipment. |
Come visit us in Glendale, Arizona
See Wyatt Earp, Doc Holliday, Virgil and Morgan Earp fight the McLaurys and Clantons in the daily reenactment inside the O.K....