American Indian Exposition
Starting date:
Ending date:
Event# 405-247-5661
Event Details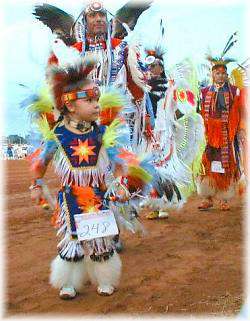 Held annually in August, generally during the first week, at the Caddo County Fairgrounds in Anadarko, this week long festival features 15 tribes, providing an opportunity for native and non- native communities to share the rich heritage, traditions, and spirituality of Native America, as well as to mingle and enjoy the spirit of friendship and community! Indian camps and arbors depict the original way of life.

Enjoy Native American arts and crafts, foods, and pageantry. Horse and greyhound races are held in the afternoon and pageants and dancing are in the evenings. The World Championship Fancy Dance Competition will be Saturday evening, beginning at 7:30. Enjoy parades at 11 a.m. on Monday and Saturday in downtown Anadarko. The carnival is at the fairgrounds.


HISTORY

An important event each year for Native Americans of the Great Plains country is the American Indian Exposition, held at the Caddo County Fairgrounds in Anadarko, Oklahoma. A historic city in the middle of what was originally called "Indian Territory" Anadarko was settled when the Indian reservations were opened up for settlers in 1901.

The American Indian Exposition, a non-profit organization, was incorporated under Oklahoma law in 1935 by Maurice Bedoka, Parker McKenzie, and Edgar Halfmoon. It was the successor to the Southwest Indian Fair, which was first held in Caddo County in Anadarko in 1931. The latter was incorporated by another Indian group, who moved it to Wewoka, where it dissolved after its first showing. After the fair was moved back to Anadarko, it got the name it is known by today. A number of prominent Indians under the then Kiowa Agency, including Lewis Ware, McKenzie, Bedoka, and Glen Peters, were instrumental in establishing the Indian fair, as it was then called.

The original purpose was to encourage and assist Indian people to progress in homemaking, poultry and stock raising, and general farming, and to promote and retain the cultural life, handicrafts and arts that were handed down through the generations, by providing a showcase for them. Due to World War II and changes in the economy, exhibits in the homemaking and farming areas were phased out. Now the Exposition concentrates on presenting outstanding attractions and retaining the arts and handicrafts.

Prior to 1935, the Comanche, Kiowa-Apache (now Apache Tribe of OK), Caddo, Wichita, and Delaware tribes started the Southwest Indian Fair. After the change to the American Indian Exposition, it was so successful that the City of Anadarko, the state legislature and the federal government appropriated funds to help support it. Later, other tribes were invited to join, and it is now operated by 15 area tribes.
American Indian Exposition
Phone :
405-247-5661
(Always call and confirm events.)
Festivals