Annual Strawberry Festival
Starting date:

Event# 918-696-7845
Event Details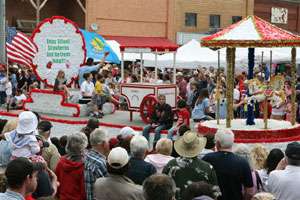 Stilwell Kiwanis Club has sponsored the annual Stilwell Strawberry Festival on the second Saturday in May since its first debut in 1948. The festival has continued throughout the years to be a highly anticipated event for the Stilwell community and visitors come to take part in the contests, 5K run, parade, berry auction, free strawberries and ice-cream servings, rodeos, carnival, arts and crafts and other events that make the festival a success each year.

Members of the Kiwanis continue to strive to hold the festival as a cornerstone event of the community and offer the community and its visitors hometown events that create fond memories that so many have shared for over 65 years.
Annual Strawberry Festival
Phone :
918-696-7845
(Always call and confirm events.)
Web Address :
http://www.strawberrycapital.com
Festivals