Marion, Kansas

category : Arts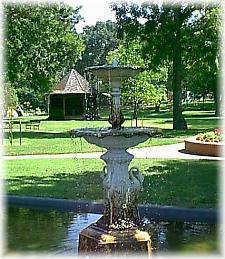 This ornate fountain was built in 1884 and is located in Central Park.

Address: 6th and Main

Come visit us in Marion, Kansas
---
More Arts near Marion, Kansas
---
Antique Fountain Related Videos
The second Tuesday in April marks the day when Kansas City, Missouri's 48 public fountains spring back to life! The 2014 Fountain Day ceremony took place at ...
Filming the fountain.
The fountain outside the Kansas City Museum. The fountain has frozen ice around it.
Old-time soda fountains are one of my favorite places on Earth. Potwins in Old Prairie Town in Topeka, KS is an excellent example. Join us as we watch our pe...
The works of art so many consider the pride of Kansas City are crumbling in plain sight and donations are needed to save them in time.
Canada geese have decided to start hanging out near the Plaza's J.C. Nichols Fountain, leaving a daily mess behind.