Calvary Days - Ft. Supply
Starting date:

Event# 580-766-3767
Event Details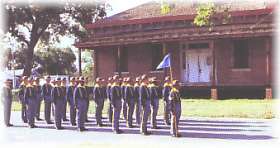 This living history reenactment is complete with Indian dancing, cavalry demonstrations, and informative history lectures.. On the grounds of Historic Fort supply, the event celebrates the history of this supply camp established for Lt. Col. George Custer's 1868 winter campaign. Historic Fort Supply is a state historic site open to visitors year round.

Calvary Days presents these continuing displays, re-enactors, and demonstrations

1. Buffalo Soldiers & Indian Scouts
2. Stagecoach Rides
3. Chuck Wagons
4. Cavalry Demonstrations
5. Indian Exhibits
6. Artillery Displays & Demonstrations
7. Blacksmith Demonstrations
8. Buffalo Hunters' Camp
9. Mountain man Camp

The Lecture Series

The Toch-e-me-ah/Ben Clark Lecture Series was established by the Historic Fort Supply Foundation to be given as a part of the annual Fort Supply Cavalry Days. This annual lecture series was created to honor the interesting and tragic history of Toch-e-me-ah and Ben Clark for their vital and personal role in the history of Historic Fort Supply.

Toch-e-me-ah was an Indian girl captured at the Battle of the Washita in November 1868 and returned to Camp Supply. Ben Clark was a renowned scout for General Phil Sheridan's Western armies. Early in 1869 Toch-e-me-ah married Ben Clarke at Camp Supply and established a permanent home at the camp. In September 1875 Toch-e-me-ah was visiting relatives camped near Camp Supply. During this visit, Toch-e-me-ah was shot by a drunken Indian. She was returned to Camp Supply where she died of complications on September 5, 1875. She is buried in the original Camp Supply cemetery just West of the Fort Supply Historic Site. Clark went on to be involved in every major campaign on the Western frontier. He died in 1913 and is buried in the historic Fort Reno Cemetery.
Calvary Days - Ft. Supply
Phone :
580-766-3767
(Always call and confirm events.)
Web Address :
http://www.okhistory.org/sites/fortsupply
Reenactments