Cassoday, Kansas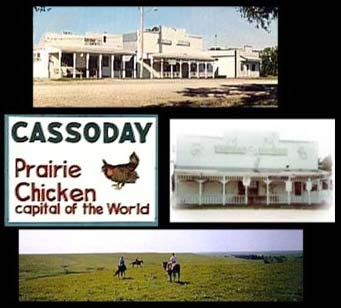 Known as the Prairie Chicken Capital of the World, Cassoday is located within the Flint Hills north of El Dorado Lake in an area that is well-known for its upland game resources. Although small, Cassoday is a place where travelers can stop and get the services they need while enjoying a more relaxed pace and a chance to rest before proceeding on their travels.

Cassoday is also a popular spot for touring bicyclists to stop and camp in the city park. On the first Sunday from March through November, motorcycles of any and all brands and their riders gather at the Cassoday Cafe for a breakfast buffet and to visit.

While open prairie cattle grazing is generally considered part of cowboy history, it is still a common practice here as large shipments of cattle are brought into the Cassoday area from all over the country to graze upon the nourishing Blue Stem grasslands in the surrounding Flint Hills. The railroad, which came to Cassoday in 1906, used to bring in the cattle. Now cattle trucks do most of the shipping although trains still come through Cassoday with regularity.
---
Attractions near Cassoday, Kansas
Course Access: PublicHoles: 18Reserve Advance Tee Times: 7 days...
The Girard Golf Course is a nine-hole, grass green municipal golf course maintained for public use. ...
Anderson Book and Office Supply was established in 1892 in a vacant lot at 420 N. Main. Phillip Murray Anderson opened a maga...
---
Cassoday Kansas Related Videos
Cassoday, Kansas Bike Run on 9/2/12 and the ride back home on our Dual Sports.
These Flag Poles and Flags were Dedicated to the Veterans of Cassoady Kansas by The American Legion Riders of Post 256 and 408. All the material and labor wa...
Riding in to Cassoday, KS, first thing in the morning for the monthly Biker's Breakfast.
Spotted during my 2007 Transam bicycle trip. September 30, 2007.
Freedom Cruisers Ch 38 Cassoday KS '09.
1st ride of the 2007 season.