Cassoday, Kansas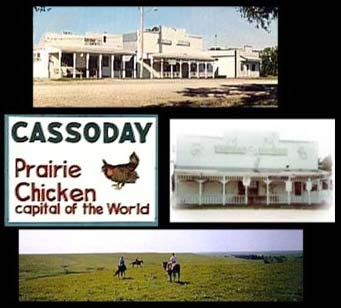 Known as the Prairie Chicken Capital of the World, Cassoday is located within the Flint Hills north of El Dorado Lake in an area that is well-known for its upland game resources. Although small, Cassoday is a place where travelers can stop and get the services they need while enjoying a more relaxed pace and a chance to rest before proceeding on their travels.

Cassoday is also a popular spot for touring bicyclists to stop and camp in the city park. On the first Sunday from March through November, motorcycles of any and all brands and their riders gather at the Cassoday Cafe for a breakfast buffet and to visit.

While open prairie cattle grazing is generally considered part of cowboy history, it is still a common practice here as large shipments of cattle are brought into the Cassoday area from all over the country to graze upon the nourishing Blue Stem grasslands in the surrounding Flint Hills. The railroad, which came to Cassoday in 1906, used to bring in the cattle. Now cattle trucks do most of the shipping although trains still come through Cassoday with regularity.
---
Attractions near Cassoday, Kansas
The pioneer 1883 jail on Allen Street can be seen by appointment. ...
---
Cassoday Kansas Related Videos
Backlit footage of the formation of the famous "Kansas Underpass Tornado" from April 26, 1991 filmed from the shore of El Dorado Lake. At the beginning you c...
Some of the thousands of bikes arriving in Cassoday, Kansas on Sunday, June 2, 2013 for the monthly bike run.
Dual Sport ride on the back roads south of Cassoday, Kansas.
Walking around Cassoday, KS, on June 5, 2011. The crowd was a little thin yet at the time I did this video.
Short lightning video of the Tornado and storm that later caught me.
This video shows you how to say or pronounce Cassoday, Kansas. A computer said Cassoday, Kansas. How would you say Cassoday, Kansas?