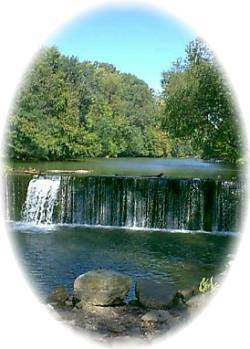 In the summer of 1857, a party of settlers from Lawrence topped the rise about a mile east of present day El Dorado and looked down on the beautiful Walnut River Valley. Tradition has it that it was late afternoon and the tranquil surface of the gently meandering Walnut was emblazoned with the golden glow of a setting sun. Capt. J. Cracklin was so impressed with the sight, he exclaimed "El Dorado!"

The name El Dorado is of Spanish origin translating "The Gilded." The phrase is a contraction of El Hombre Dorado, "The Gilded Man," the significance of which is derived from the exploration of early Spaniards in the mid 1700's to this area. They heard tales of an annual ritual in which a man was covered with gold dust and then immersed in a sacred pool, washing off the gold dust as an offering. The Spaniards, with their lust for gold, set out to find the gilded man, El Hombre Dorado, which they soon shortened to El Dorado.

The story of this gilded man and his land of fabulous wealth was told so often that the words El Dorado became a symbol of riches. The phrase made its way into the English language and came to mean any rich, beautiful land or location.

Formally incorporated in September 1871, El Dorado experienced rapid growth, as settlers from the East flooded into Butler County between 1870 and 1890. The Population boom was primarily based on the availability of good farm land and the area's great potential for cattle. El Dorado rapidly developed as a center for farming and ranching. The city's long and prosperous history also includes proximity to the rich and productive El Dorado Oil Field. The field was discovered shortly before the First World War, and, through its tremendous production, enabled the Allies to "Float to victory on a sea of El Dorado Oil," El Dorado continues to prosper from the oil and cattle industry yet also welcomes the recreation industry which has grown up around El Dorado Lake and State Park.

Downtown El Dorado is "stepping back into time" with red brick sidewalks, old fashioned light poles, planters full of flowers and benches lining the streets. Be sure to visit our art galleries and the famous Coutts Memorial Museum of Art. Take a break from shopping and relax in one of our outdoor courtyards. Sunshine Court is a place to enjoy flowers, visit with a friend or eat your picnic or sack lunch. Sculpture Plaza offers a 10x25 foot ceramic tile mural of the scenic Flinthills and two of our outdoor sculptures, "Flight" and "His Brand". Downtown restaurants and cafes offer places for great meals or snacks and unique retail shops provide a variety of interesting places to explore.
Something I put together when I was in El Dorado, Kansas, in June 2012. Five weeks later, my father would go into critical condition, and six months after th...