category : Museums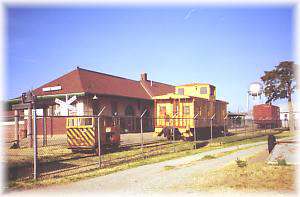 The Kiowa County Museum occupies the historic Rock Island Depot listed on the
National Register of Historic Places
. It was built in 1909 and used until the 1970s. The Kiowa County Historical Society acquired the site in 1987, and after many hours of volunteer help in construction and collecting, the official opening was held May 29, 1993.
The museum is filled with memorabilia, antiques, period furniture and historical items that were selected as "museum quality" by professional antique dealers. You will be privileged to find rare items that have antique value as well as historic appeal.
There is an Indian Artifact Room and a large addition with professionally finished classic tractors, buggies, and vehicles.

Admission: Free Admission
Hours: Tuesday - Saturday, 10:00 am to 4:00 pm
Sunday, 2:00 to 4:00 pm
Address: 518 S. Main
Phone: 580-726-6202
Our Email: kiowacomuseum@cableone.net

Come visit us in Hobart, Oklahoma