Wagoner, Oklahoma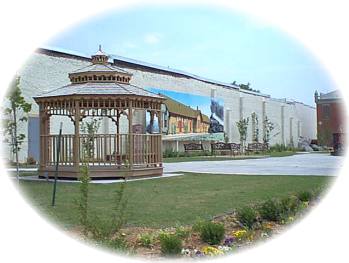 Journalists touring Oklahoma in the 1800s labeled Wagoner "Queen City of the Prairies" and it's a title that still applies. Wagoner is the gateway to Fort Gibson Lake and only minutes from any point on the lake.

The community is alive with opportunities for family fun throughout the year -- youth baseball, a very active soccer league, a horse club and other activities. The annual Christmas lights festival brings the town to its fullest beauty while Summerfest celebrates the beginning of summer each June.

The city retains a look of the past - many of the downtown buildings have been restored and several residences from Indian Territory days have been preserved.

In 1872, the Katy Railroad officials were eager to seize the opportunity to gain some of the land in the new frontier and pushed their line into Indian Territory and through the Creek Nation to Gibson Station.

Soon thereafter, Henry "Bigfoot" Wagoner, a Katy railroad dispatcher from Parsons, Kansas, saw the need for building a switch a few miles north of Gibson Station for the purpose of loading cattle and logs.

His request was granted and the switchyard was built. When Roadmaster Perry telegraphed the message, "Wagoner's Switch is ready," the town had its name.

The town became the first in Indian Territory to establish a public school and a waterworks system. By 1895, the young town had numerous permanent buildings, including the Cobb Building that still stands at the heart of the city and houses the American Bank. What is now First Bank and Trust Co. had opened the state's third chartered bank on the opposite corner.

In 1896, the city was incorporated and well established as a frontier town.

---
Attractions near Wagoner, Oklahoma
Course Access: PrivateHoles: 18Reserve Advance Tee Times: 2 days...
Early day items from Coweta. ...
Lake Pawhuska provides trout fishing from Nov. 1 to Mar. 31. This 96 acre lake with clear water and rocky shorelines is locat...
---
Wagoner Oklahoma Related Videos
Scenes of downtown Wagoner, Oklahoma.
US 69 North through Wagoner, Oklahoma To find out all my current trip information, truckcams, GPS, photos, panoramas, and more, visit my BLOG: 18 Wheels Acro...
Hanging woman of Salt Creek Bridge of Wagoner ,County The Journey Begins.
"Happiness Is Homemade" This beautiful property, in 1.5 miles away from the lake, has 3550 sq. feet of living space. Being extremely spacious, there are 5 be...
Got a DUI? That sets in motion lot of problems a whole. But CREOKS can be part of putting those problems behind you. You're going to need to get a DUI assess...
Evidence obtained during numerous N.O.R.S. paranormal investigations at the Parkinson Bed and Breakfast in Wagoner Oklahoma. Feel free to comment and check u...