Wagoner, Oklahoma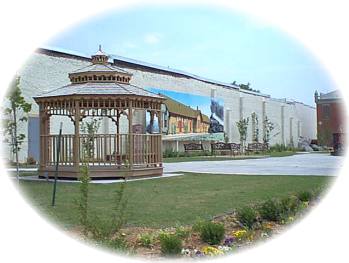 Journalists touring Oklahoma in the 1800s labeled Wagoner "Queen City of the Prairies" and it's a title that still applies. Wagoner is the gateway to Fort Gibson Lake and only minutes from any point on the lake.

The community is alive with opportunities for family fun throughout the year -- youth baseball, a very active soccer league, a horse club and other activities. The annual Christmas lights festival brings the town to its fullest beauty while Summerfest celebrates the beginning of summer each June.

The city retains a look of the past - many of the downtown buildings have been restored and several residences from Indian Territory days have been preserved.

In 1872, the Katy Railroad officials were eager to seize the opportunity to gain some of the land in the new frontier and pushed their line into Indian Territory and through the Creek Nation to Gibson Station.

Soon thereafter, Henry "Bigfoot" Wagoner, a Katy railroad dispatcher from Parsons, Kansas, saw the need for building a switch a few miles north of Gibson Station for the purpose of loading cattle and logs.

His request was granted and the switchyard was built. When Roadmaster Perry telegraphed the message, "Wagoner's Switch is ready," the town had its name.

The town became the first in Indian Territory to establish a public school and a waterworks system. By 1895, the young town had numerous permanent buildings, including the Cobb Building that still stands at the heart of the city and houses the American Bank. What is now First Bank and Trust Co. had opened the state's third chartered bank on the opposite corner.

In 1896, the city was incorporated and well established as a frontier town.

---
Attractions near Wagoner, Oklahoma
USS Batfish - 312-foot WWII submarine. ...
Oklahoma's only archaeological park, is a 150-acre site encompassing 12 southern mounds which contain evidence of an Indian c...
The area's first oil well. ...
---
Wagoner Oklahoma Related Videos
Evidence obtained during numerous N.O.R.S. paranormal investigations at the Parkinson Bed and Breakfast in Wagoner Oklahoma. Feel free to comment and check us out at www.norsonline.com.
Scenes of downtown Wagoner, Oklahoma.
US 69 North through Wagoner, Oklahoma To find out all my current trip information, truckcams, GPS, photos, panoramas, and more, visit my BLOG: 18 Wheels Across America.net.
Driving from Wagoner, OK to Tulsa, OK on OK 51. Filmed on July 14th 2013. Music courtesy of Danosongs.com.
Small bowl funnel cloud and brief tornado NE of Wagoner, OK. This is my first tornado ever, and it was pretty sweet. Unfortunately, I did not see where it touched down, but we did come across...
Item Number: F2012.098.01 Black and white sound interview with Richard Jeffers, the then current owner of Jeffers Ford Motor Company in Wagoner, OK. Interview is about the various vehicles...