Cherokee, Oklahoma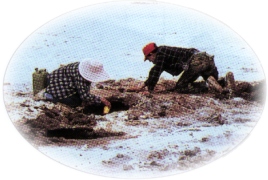 Located just west of the Great Salt Plains National Refuge which was never opened to settlement, Cherokee became the county seat of Alfalfa County after its sudden growth as one of the tent cities of the Cherokee Outlet Land Run of 1893.

Cherokee continues to grow as a stopover for visitors to the national landmark. Annually beginning April 1st, prospectors come from all over the world to dig for the rare selenite crystals found only in the Great Salt Plains. Birdwatchers and wildlife enthusiasts find the refuge to be an ideal place for finding rare species in a collective environment.

The Alfalfa County Museum in downtown Cherokee invites everyone to learn about the history of the area through exhibits displayed in the historic hotel.

The Crystal Festival and Bird Celebration held the last weekend of April is a perfect time to see the very best of Cherokee as merchants, artists, photographers, crafters, and bird experts come together to create one of the most fun in learning opportunities in the state.
---
Attractions near Cherokee, Oklahoma
Original paintings depicting several of Pawhuska's most famous historical buildings are on display at the the NBC Bank. Vi...
Course Access: PublicHoles: 9Reserve Advance Tee Times: Yes...
---
Cherokee Oklahoma Related Videos
This is a 1907' Bank that has Been Remodeled into a Urban Resident/Antique Shop! It is 6800 sq ft Total and is The Tallest Building in the City Of Cherokee,...
Some history of the Slaves of America, and the contact they had with Native American Nations (Tribes). This is a misunderstood culture and lost identity with...
Powwow for first day of Cherokee National Holiday 2011.
Come immerse yourself in the powerful personal inspiring culture of the Cherokee Nation. Shel Wagner serves as your guide through this visit with the Cheroke...
Oklahoma , Cherokee, Oklahoma August 1th.
Two tornadoes near Cherokee, Oklahoma 4/14/12. Unedited video. Do not use without permission. Contact me at mikewx2@yahoo.com.