Freedom, Oklahoma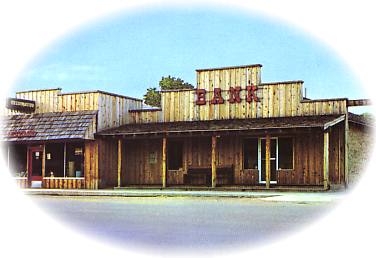 Visitors to Freedom are astounded by the lingering presence of the "Old West," as nearly every building in the downtown area is fronted with native cedar wood in designs typical of an early day cowtown.

Just to the south of Freedom, amidst a series of deep, rugged canyons inhabited by Indians and outlaws years ago, is Alabaster Caverns State Park. The caves serve as a summer refuge for over one million Mexican Free-Tailed Bats that can be viewed emerging in mass for their nightly insect feeding. Just west of Freedom the Cimarron River has created one of Oklahoma's largest natural salt deposits. In the rolling hills north of Freedom is a remote and lonely site known as the Salt Haulers Grave, where a crude, hand-carved stone marks the burial site of two unfortunate cowboys, victims of one of American history's last-known Indian raids.

Freedom's population swells to about twenty-five times its normal size the third weekend of August each year, as local volunteers stage the "Annual Freedom Rodeo and Old Cowhand Reunion," This annual event has been recognized as one of the more outstanding activities in the state of Oklahoma. The week-end long action includes nightly rodeos and western music and dancing, and on Saturday of rodeo week-end a free chuck-wagon feed and fine western art and country crafts show are held in downtown Freedom. Saturday afternoon will find visitors anxiously awaiting the performance of the "Great Freedom Bank-Robbery and Shoot-Out," which is a melodramatic farce put on by local residents.

Downtown Freedom abounds with interesting attractions, including an inspirational cowboy building mural entitled "Posting the Colors." The Freedom Museum highlights local history. The Cimarron Cowboy Monument is a magnificent portrayal of the early-day cowboy and the environment in which he lived and loved so much. The Freedom Public School ranks among the very best, and provides the latest in curriculum and technology training.

The cowtown atmosphere, the beautiful surroundings, and the genuine hospitality of its people, all blend together to make Freedom --- a town as unique as the name itself!
---
Attractions near Freedom, Oklahoma
Cedar Crest Golf Course is a 36-par, nine hole golf course. The course is open from 7:30 a.m. until dusk, with hours extended...
McGee Creek State Park has eight Lake Huts located near the Potapo Campground. Although rustic in appearance, these huts pro...
Course Access: PublicHoles: 18Reserve Advance Tee Times: Yes...
The Boys and Girls Club of McAlester has been located in the heart of McAlester since 1960. There are no geographic boundarie...
---
Freedom Oklahoma Related Videos
This is a song about a small Western Town in Northwest Oklahoma. Written and Preformed by a Local Song Writer "Country Rose"
Songwriter: Tom Rascal.
Join Steve Ray, Archbishop Paul Coakley and many others at this important event to educate and invigorate Christians to STAND UP for our religious liberty. M...
This video was uploaded from an Android phone.
http://www.PropertyPanorama.com/113198 is the place to go if you are seeking a Freedom Oklahoma homes for sale near Freedom Oklahoma. If you are looking for ...
Top income earner and inspirational story, Jeff Bolf. Takes us all over the world and shares some of his funniest, and memorable moments with his best friend...