Clark County Mule Festival and Rodeo
Starting date:
Ending date:
Event# 660-866-2330
Event Details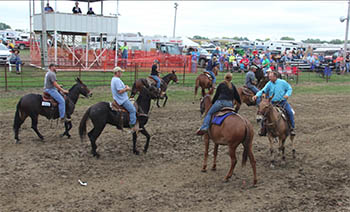 The Mule Festival is a two day mule show starting at 10:00 a.m. on Saturday and Sunday and also features crafts, flea market, trail rides, quilt display, and souvenirs. Friday night at 5:30 p.m., come watch or participate in the Mule Polo games which will be followed by steer daubing, break away roping, goat sticker dash, women's and girl's goat tying, steer doctoring, 3 head sort n pen, team sorting and roping.

Some of the events during the Saturday/Sunday Mule Show are Back-to-Back, Dumb Waiter, Dotty Pardon race, tack on a trailer, panty hose race, musical tires, monkey in the tree, coon hunter race, pick up race, mule jumps, and maybe a surprise event. On Saturday, will be the mule pull at noon that used to be on Sunday. Some Sunday events are the costume contest, halter class, and many other races.

The rodeo is the most popular event. It is held on Saturday evening at 7:00 p.m. Some rodeo events will be bulls- 16 and over, steer buck out, bareback mule riding, Steer Dogging, Women's barrel racing, barrel racing for girls age 15 and under, break away roping, wild cow catch, and team penning. Registration books will open at 2:00 p.m. under the announce stand until 4:00 p.m. A number of clowns will be available for entertainment and the safety of the riders.

Food and drink available. Camping on grounds.
Clark County Mule Festival and Rodeo
Address :
Clark Co. Fairgrounds, Route EE
Kahoka
MO
Phone :
660-866-2330
(Always call and confirm events.)
Web Address :
http://www.clarkcountymulefestival.com/
Admission Fee :
Main gate cost is $5.00 per person for a commemorative button or band (10 years and under are free) for the weekend
Rodeos
Attractions and Upcoming Events
Things to do near Kahoka, MO