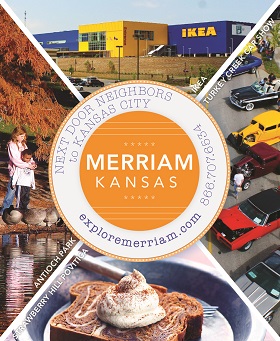 The history of this community began between 1826 and 1833 when the Shawnee Indians were moved into this region and established themselves along the banks of the Kansas River and surrounding tributaries, including Turkey Creek in Merriam.

A Tennessean, David Gee Campbell, bought acreage from an Indian (Mary Parks) in what is now known as Merriam. In 1864 he moved his home to the south side of Johnson Drive near Turkey Creek. In honor of its founder, the town was named Campbellton and it had approximately 20 homes during this era, plus a few businesses including the Nall Hotel and James Walker's Store.

Railroad development played a major role in the settlement of this area with a route from Kansas City through the Turkey Creek basin to Olathe. The railroad, at this time, was known as the "Kansas City, Fort Scott and Gulf." In 1870, the first station in Campbellton was built and the name of the town was changed to "Merriam", in honor of Charles Merriam, a one-time secretary/treasurer of the railway. Merriam Park was also named for Charles Merriam.

Merriam became the biggest town in Northeast Kansas around 1930. Merriam was unincorporated during much of its life, and it wasn't until 1950 that the Merriam area petitioned the Governor to become an incorporated city of the third class, with Carl Engle Sr. serving as the first Mayor.

A pioneer and leader in the development of the Kansas City area, Merriam was the site of the first Bell Telephone office in Johnson County in 1908; the first public library in 1956; the first major park in Johnson County (Antioch Park in 1956); the first full-service hospital, Shawnee Mission Medical Center in 1962 and Merriam was also the first home to Johnson County Community College from 1969-1972.

Today, Merriam is a vibrant community, nestled just 8 miles south of downtown Kansas City and minutes from anywhere in the metro. Many people choose to visit and stay in Merriam because of its convenient and accessible location to Kansas City's exciting events and attractions. Not only does the city lie on the northeastern edge of Johnson County, but it is bisected by major thoroughfares, including Interstate 35. As a result, people visiting Merriam are only minutes away from the airport, downtown Kansas City, the Country Club Plaza and business districts in southern Johnson County. Comfortable, inviting and affordable lodging, delicious and plentiful restaurants, shopping venues, beautiful parks and nature trails, events and attractions await you in Merriam...next door neighbors to Kansas City!