Fall Farm-Fest
Starting date:
Ending date:
Event# 918-966-3396
Event Details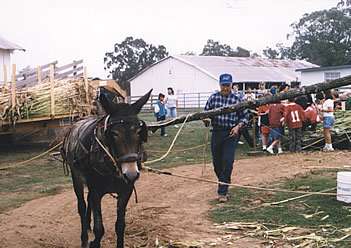 At the annual Fall Farm-Fest volunteers demonstrate activities and crafts common on farms one hundred years ago. At past festivals, these have included blacksmithing, herb craft, soap making, Dutch oven cookery, rifle making, quilting, and the use of antique farm equipment.

Farm-Fest is held the second Friday and Saturday each October. Friday is reserved for school groups. On Saturday, the festival is open to the general public from 9 a.m - 4 p.m.

Not to be missed is an authentic piece of Americana: sorghum cooking. Locally grown sorghum cane is first milled by draft power. Then experienced hands cook it down in the traditional way, over an open fire. The result is sweet, delicious sorghum, akin to molasses, once the sweetener of choice across America. In the fall, neighboring farm families used to gather at the sorghum pan to taste the new syrup. Today, cooking sorghum is an almost-lost art, resurrected each year at Farm-Fest.

The farm is located ten miles south of Sallisaw on highway 59, then right on Overstreet-Kerr Rd.
Fall Farm-Fest
Address :
Overstreet-Kerr Historical Farm
Keota
OK
Phone :
918-966-3396
(Always call and confirm events.)
Web Address :
http://www.kerrcenter.com/overstreet/farmfest
Admission Fee : $5 adults, $3 youth
Kids under 6, free
Senior Citizen groups (10 or more) $3 advance reservations required

Festivals
Attractions and Upcoming Events
At the Overstreet-Kerr Farm visitors may glimpse life on this working farm as it was in the early 20th century. See the lavishly restored, 1895, antique filled, 14-room pioneer home that is listed on the National Registry of Historic Places
Keota, OK
Museums
---
Things to do near Keota, OK