Located in central Graham County in Northwest Kansas, just north of the picturesque Solomon River Valley,
Hill City
offers a unique blend of shopping, dining, and great community living. Top-notch educational, commercial, medical and cultural facilities are available in this county seat community.
Take time to relax in one of several
Hill City
parks. Enjoy a dip in our modern swimming pool. Use the 9-hole grass greens golf course and tennis courts. A new softball-baseball complex and outstanding high school sport stadium complex are available for team competition.
Visit the Oil Museum in
Hill City
, as well as, the community of Nicodemus, the Minium Fossil Quarry, Antelope Lake and the Cottonwood Ranch, all within easy driving distance form
Hill City
.
We welcome you to worship in one of our 11 city churches. Good clean country living in an area wealthy in agricultural and mineral resources.
Hill City Kansas Related Videos
Popular Attractions in Hill City Kansas
Nicodemus
Hill City, KS | Category: Pioneer History
Nicodemus is the only remaining all African-American pioneer town west of the Mississippi. It was established in 1877 by ex-slaves from Kentucky and Tennesse. In 1976 it was designated as a National Historical Landmark and is currently under consideration for inclusion in the National Park system.
Nicodemus
Lakes near Hill City Kansas
Antelope Lake
Region : High Plains, KS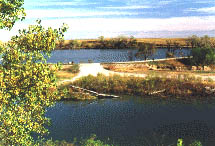 Antelope Lake is a community lake that covers approximately 80 acres. It has a maximum depth of 11 feet. Locals say that it is a good fishing lake and that all are welcome to come and enjoy it and the communities that are near the lake.
Antelope Lake