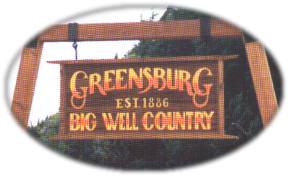 Prior
to Tornado Disaster - May 4, 2007
In 1886, Governor John Martin organized Kiowa County and named it after the native Indians of the area. Small settlements were springing up across the plains. Donald R. Green "Cannonball Green" was instrumental in the organization of
Greensburg
, the town that would bear his name. Green was elected Kiowa County's first representative in the Kansas legislature in 1889.
Colonel Green was a flamboyant, boastful character. He liked to dominate a crowd while twirling his diamond-studded watch chains. He owned and operated "The Cannonball Stageline." His fine stagecoaches and speeding broncos blazed trails which railroads and highways later followed. He took great pride in the speed of his coaches and advertised that even "Father Time" couldn't keep up with the "Cannonball".
His stageline brought stability and prosperity to the towns it served as he helped his passengers become acquainted with prairie life. But his stageline was up-staged when the railroad came to Kiowa County. And that begins the story of the World's Largest Hand Dug Well!
Greensburg Kansas Related Videos
May 4th 2007 Greensburg Kansas Tornado. Incredible footage of the EF-5 tornado up close. Sean Wilson of Blown Away Tours along with Tim Andrews video taped t...
By: seanwilson7
Duration: 8.10
min.
Views: 253436
Rating: 4.650334
How does a Midwest town recover from a devastating tornado? When that town is Greensburg, Kansas, it returns to its pioneer roots and rebuilds sustainably. I...
By: energynownews
Duration: 8.30
min.
Views: 4574
Rating: 5.0
Part 1 of 2 Managing Meteorologist Jay Prater's condensed coverage of the Greensburg Tornado. (c) KAKE-TV Wichita, Kansas.
By: PraterWX
Duration: 8.90
min.
Views: 98462
Rating: 4.77439
Greensburg, KS - A town that was devastated by a tornado in 2007, yet came back to be one of the Nation's most energy-efficient, sustainable communities. Civ...
By: USdepartmentofenergy
Duration: 4.15
min.
Views: 7835
Rating: 5.0
Five years after being hit with and EF-5 tornado, Greensburg, Kansas is well on its way back. It's a 'green' city, it's a city exploring new ideas in buildin...
By: Larry Hatteberg
Duration: 3.50
min.
Views: 1063
Rating: 5.0
Rare video of the monster EF-5 tornado that leveled the town of Greensburg KS. Watch stormchaser Lanny Dean as he intercepts the supercell south of Greensbur...
By: ExtremeChaseTours
Duration: 9.45
min.
Views: 35236
Rating: 4.6292133
http://www.sundancechannel.com/thegoodfight/ Greensburg residents, excited at the opportunity to rebuild green, discuss green technologies and establishing t...
By: sundancechannel
Duration: 3.47
min.
Views: 8731
Rating: 4.5
Directed and Produced by Brian Schodorf in 2008. www.greensburgfilm.com- Greensburg, Kansas was hit by an EF5 tornado, the most powerful and devastating stor...
By: DocChannel
Duration: 58.37
min.
Views: 214608
Rating: 4.6895103
A massive wedge tornado strikes Greensburg, Kansas on the night of May 4, 2007. Lightning flashes illuminate the tornado and several satellite tornadoes in t...
By: stormhighwaycom
Duration: 9.77
min.
Views: 6472
Rating: 4.354839
Produced for the 2010 season of "Sunflower Journeys," this video reflects on the progress made as Greensburg, Kansas, rebuilds as a green community following...
By: KTWUProductions
Duration: 8.80
min.
Views: 1517
Rating: 5.0