category : Historic Churches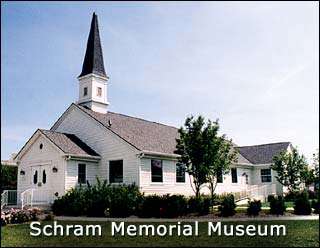 The Captain Richard A. Schram Memorial Museum and former Navy Chapel, named for a distinguished Navy flier, was originally erected at the Glenview Naval Air Station in 1945 then moved to its present location just south of Park Center and completely restored by Kimball Hill Builders and the Village of Glenview.
The building's distinctive features include beautiful hardwood floors, brightly colored leaded glass windows and ceiling fans. The main floor offers fixed auditorium-style seating for 150 people. The lower level meeting room features a small kitchen with refrigerator and microwave oven and can accommodate up to 140 people auditorium-style or 90 people with tables and chairs.
The Schram Navy Chapel is now available for rental by groups, individuals and organizations. It's a perfect location for meetings, weddings and other special gatherings.
Phone Number - Main: (
Fax Number: (847) 724-8601
Web Address: .
Directions and Attractions
Interesection: South of Park Center
General Information
Admission Price(s): Free
Hours of Operation: Hours Vary

Admission: Free
Hours: Hours vary.
Address: 1799 Patriot Boulevard
Phone: 847-657-3461
Our Website:www.glenviewparkdist.org/fa-schram-memorial-museum.htm

Come visit us in Glenview, Illinois