Event Details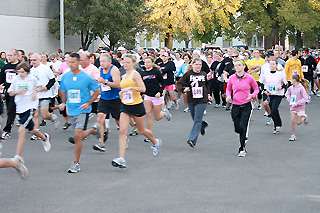 IMPACT THE CURE EVENT TO RAISE AWARENESS FOR BREAST CANCER

Breast cancer awareness will be the focus of the "Impact the Cure" Run and Walk being held in downtown Abilene. Impact Sports and Fitness, 418 N. Broadway, is teaming up with local businesses to promote breast cancer awareness through the run, and to raise funds to help the fight against breast cancer.

People of all ages and fitness levels are invited. The event will include a 5K race, 2 mile run, and 2 mile walk. "Couch potatoes" are also invited, and will have the option of purchasing a breast cancer awareness shirt with the proceeds going toward the fight against breast cancer. There will be prizes for runners and walkers, as well as drawings and giveaways for all in attendance. Several booths will offer information regarding breast cancer awareness.

Registration forms will be available soon. Watch for more information on Memorial Health System's Facebook page by visiting http://facebook.caringforyou.org. This event is still in the planning stages. If you are or your business is interested in becoming a sponsor, please call Impact Sports and Fitness at (785) 263-3888.

Address :

Impact Sports & Fitness, 418 N Broadway

Abilene

Kansas


Phone : 785-263-3888

(Always call and confirm events.)
Email Address :
rswisher@mhsks.org
Web Address :
www.mhsks.org/impactthecure.cfm
Admission Fee :
TBA
Additional Notes :