Abilene, Kansas
Santa on the Train - 2014
Event Details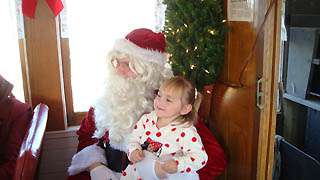 The Abilene Parks & Recreation Department along with the Abilene & Smoky Valley Excursion Train provide a holiday treat to help celebrate the season. Enjoy the company of Santa Claus as you travel on the train.

Train leaves at 1pm.

Address :

Abilene & Smoky Valley Railroad Depot, 200 SE Fifth Street

Abilene

Kansas


Phone : 785-263-7266

(Always call and confirm events.)
Email Address :
aprd@abilenecityhall.com
Admission Fee :
$10 per person
View More

Christmas
---
---
Christmas Related Videos
Here's a fantastic version of "Angels we Have Heard on High" by longtime KANSAS front man STEVE WALSH!. It comes from an awesome highly overlooked 2001 CD en...
Kansas City's Christmas song sung by Brad Millison. He recorded it about 1985 and the song gets considerable air play on KC radio during the holiday season. ...
The much beloved Christmas classic by Brad Millison put to video. All scenes filmed on location. Starring: Adam, Tori, Ty, Scott. Thanks to all who helped!
A tuba Christmas for 2014 held at the Kauffman Center For The Performing Arts in Kansas City, Missouri on December 5th, 2014.
On behalf of a wealthy donor, police officers in Kansas City, Missouri, gave away money to unsuspecting drivers. Steve Hartman reports.
Christmas in Kansas City performed by Brad Millison and the Heritage Chorale. An American Family Christmas - December 1985. Photographs by Joe Bonello.