Baxter Springs, Kansas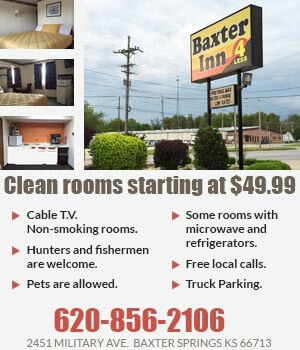 Upcoming Events in Baxter Springs Kansas
April
79
Living History Week - 6 outdoor venues, Native-American Indian, Western, frontier, log cabin, covered wagon, Civil War, 40 costumed demonstrators. Hands-on history for students.

Ph: 620-856-2385 (Always call and confirm events)
Web: www.baxterspringsmuseum.org

June
August
48
Cowtown Days & Rodeo - The annual celebration features live entertainment throughout the festival, featuring "Pride of Texas Shows Carnival" with 15 big rides. Route 66 Classic Car Show with over 50 cars and motorcycles. Along with Wild West Gun-fight re-enactments and Wild West Shows by the Cherokee Arts Council, Carriage rides, Stage concerts, Mustang GT 5.0 raffle, "Battle of the Bands," and much more.

* Gospel Music * Entertainment Each Night * Arts and Crafts * Food Vendors * Historical Society Presentation * Car Show and Cruise * 3 Day Saddle Club Rodeo

6:00 -10pm

Address: Hwy 166 E, Kiwanis Park , Baxter Springs, Kansas
Ph: 620-856-3131 (Always call and confirm events)
Email: chamber@baxtersprings.us
Web: baxterspringschamber.com
Fee: Free

December
5
Christmas Parade - First Saturday - This local event draws a large crowd and one very special visitor!

Ph: 620-856-3131 (Always call and confirm events)
Email: bscofc@4state.com

---
Attractions near Baxter Springs, Kansas
Library hours are: Monday 10:00-12:00 & 2:00-5:00 Tuesday 2:00-5:00 Wednesday 2:00-5:00 Thursday 10:00-12:00 & 2:00-5:00 Satu...
http://kansaswalleye.org/ You are invited to the five scheduled tournaments at some of the finest lakes in Kansas. The ...
This house was octagon in shape before an addition was built on. The entrance to the house is of particular interest. Two tal...
A rusticated limestone block structure in Neoclassical style, which was completed in 1902. A gift from Andrew Carnegie in mem...
---
Baxter Springs Kansas Related Videos
This video is managed exclusively by Newsflare. To use this video for broadcast or in a commercial player email newsdesk@newsflare.com or call +44 (0)843 2895191.
Wide angle time lapse: Tornado warned supercell structure with wall cloud near Baxter Springs, KS around 5:30pm 10/1/14. Please contact Jason Cooley at doctornadocooley@gmail.com or contact...
The Baxter Springs, KS tornado as seen from the south side of Joplin, MO.
Joplin Globe reporter Wally Kennedy captured this raw footage in Baxter Springs, Kan. on April 27, 2014. Gary Allen, a former Baxter Springs council member who also worked for the Cherokee...