Baxter Springs, Kansas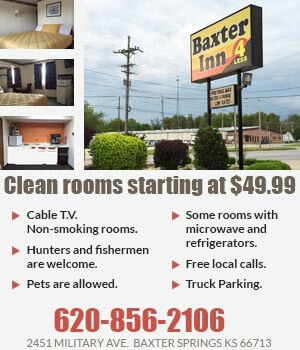 Upcoming Events in Baxter Springs Kansas
Monthly
Baxter Springs Official Events Page -
City-wide Garage Sales: - SPRING: 1st Saturday in June FALL: 1st Saturday in October

Cowtown Days & Rodeo - August (no official announcement of date)

Historic Homes Christmas Tour - Weekend before Thanksgiving

Christmas Parade & Tree Lighting - 1st Saturday in December

Home-Grown Art Show and Sale - First Weekend in April and First Weekend in October

Route 66 Fall Festival - 1st Weekend of October 2014

Scavenger Hunt - First Weekend in April and First Weekend in October

Steel Guitar Rendezvous - First Full Weekend in October

Veterans Day Parade - Weekend before Veterans Day (tentative date)

Address: 1004 Military Avenue , Baxter Springs, Kansas
Ph: 620-856-3131 (Always call and confirm events)
Email: chamberinfo.baxtersprings@gmail.com
Web: http://baxterspringschamber.com/

April
8 - 10
Living History Week - 6 outdoor venues, Native-American Indian, Western, frontier, log cabin, covered wagon, Civil War, 40 costumed demonstrators. Hands-on history for students.

Ph: 620-856-2385 (Always call and confirm events)
Web: www.baxterspringsmuseum.org

June
August
59
Cowtown Days & Route 66 Festival - The annual celebration features live entertainment throughout the festival, featuring "Pride of Texas Shows Carnival" with 15 big rides. Route 66 Classic Car Show with over 50 cars and motorcycles. Along with Wild West Gun-fight re-enactments and Wild West Shows by the Cherokee Arts Council, Carriage rides, Stage concerts, Mustang GT 5.0 raffle, "Battle of the Bands," and much more.

* Gospel Music * Entertainment Each Night * Arts and Crafts * Food Vendors * Historical Society Presentation * Car Show and Cruise * 3 Day Saddle Club Rodeo

6:00 -10pm

Address: Hwy 166 E, Kiwanis Park , Baxter Springs, Kansas
Ph: 620-856-3131 (Always call and confirm events)
Email: chamber@baxtersprings.us
Fee: Free

December
6
Christmas Parade - First Saturday - This local event draws a large crowd and one very special visitor!

Ph: 620-856-3131 (Always call and confirm events)
Email: bscofc@4state.com

---
Attractions near Baxter Springs, Kansas
The Ashland Golf Course is located North of town using Grant Street. The course has grass greens and is open to the public. ...
Two popular areas are the Otter Creek Offroad Vehicle Area and the Hickory Creek Trail. The Otter Creek ORV area is located a...
Course Access: PublicHoles: 9Reserve Advance Tee Times: 7 days...
---
Baxter Springs Kansas Related Videos
This video is managed exclusively by Newsflare. To use this video for broadcast or in a commercial player email newsdesk@newsflare.com or call +44 (0)843 289...
KDR Media event chaser, Tim Thomas captured the Baxter Springs, KS tornado as it went through the area on 4/27/14.
Several buildings were destroyed, including a nursing home, by a tornado that went through Baxter Springs, Kan., on Sunday afternoon.
Kansas Gov. Sam Brownback surveyed damage in Baxter Springs, where an EF2 tornado injured nearly 3 dozen people and destroyed about 100 homes and businesses.
Small EF2 rope tornado reported down just North East of Baxter Springs KS at 6:10 p.m. Approxomitly 65-100 MPH winds. Video of 1 of 3 reported within 30 minu...
and opps i ran a yellow light . had an asshole pull out in front of meand the woman on my left turned out to be fat n ugly enjoy a part of history.